Murder at the Bookstore (Paperback)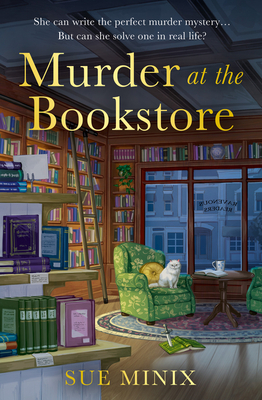 $16.99

Usually Ships in 1-5 Days
Description
---
"A super cozy mystery... The perfect pick up for a weekend read by the fire. It has everything... Hijinks, who-dun-its, loveable characters, and a wonderful setting. And a main character who is FIERCE" NetGalley review ⭐⭐⭐⭐⭐
She can write the perfect murder mystery... But can she solve one in real life?
Meet Jen Dawson, mystery writer, coffee lover, and amateur detective?
Crime writer Jen returns to her small hometown with a bestselling book behind her and a bad case of writer's block. Finding sanctuary in the local bookstore, with an endless supply of coffee, Jen waits impatiently for inspiration to strike.
But when the owner of the bookstore dies suddenly in mysterious circumstances, Jen has a real-life murder to solve.
The stakes are suddenly higher when evidence places Jen at the scene of the crime and the reading of the will names her as the new owner of the bookstore ...
Can she crack the case and clear her name, before the killer strikes again?
Perfect for fans of Agatha Christie, Lauren Elliott and Ellery Adams, this is an absolutely gripping new bookish cozy crime series that will have you hooked from the very first page.
Readers adore
Murder at the Bookstore
:
"I loved trying to figure out the murder before I got to the end. This was a cozy, page-turning read" NetGalley review ⭐⭐⭐⭐⭐
"This ingenious author has written a cannot put down novel" NetGalley review ⭐⭐⭐⭐⭐
About the Author
---
Sue Minix is a member of Sisters in Crime, and whenshe isn't writing or working, you can find her reading, watching old movies, or hiking the New Mexicodesert with her furry best friend.