Bea Is for Blended (Hardcover)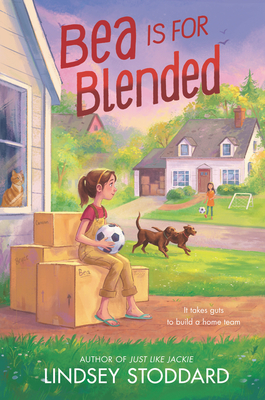 $16.99

Usually Ships in 1-5 Days
Description
---
Girl power scores a goal in this uplifting story of teamwork, new beginnings, and coming together to fight for what's right—perfect for fans of Lisa Graff and Lynda Mullaly Hunt.
Bea and her mom have always been a two-person team. But now her mom is marrying Wendell, and their team is growing by three boys, two dogs, and a cat.
Finding her place in her new blended family may be tough, but when Bea finds out her school might not get the all-girls soccer team they'd been promised, she learns that the bigger the team, the stronger the fight—and that for the girls to get what they deserve, they're going to need a squad behind them.
Lauded as "remarkable" by the New York Times Book Review, Lindsey Stoddard's heartfelt stories continue to garner critical acclaim, and her latest novel will have fans new and old rooting for Bea as she discovers that building a new life doesn't mean leaving her old one behind.  
About the Author
---
Lindsey Stoddard was born and raised in Vermont. She spent twelve years living in NYC and taught middle school English at MS 324 in the neighborhood of Washington Heights. She recently moved back to Vermont with her husband and two children. Right as Rain is her second novel, following the acclaimed Just Like Jackie.
Praise For…
---
"A little bit coming of age, family drama, sports hype, and school shenanigans all rolled into one for an appealing read." — School Library Journal
"Stoddard's characters are fully formed in her latest book, and the themes of family and equality run throughout. Bea is a spitfire of a main character up against an antagonist that readers can cheer against." — Booklist
Praise for Brave Like That: "Family, love, loyalty, friendship, and bravery are tested in this small-town narrative. A great novel for any tween learning to find their own voice."
— Booklist
"Heartfelt and triumphant. Cyrus's journey toward self-acceptance will inspire readers of all ages." — School Library Journal (starred review)
"Help comes from surprising directions in this moving, character-driven tale. With a strong, never-preachy anti-bullying message, this one scores a touchdown." — Kirkus Reviews
"A heartrending and compassionate read about how standing up for something can help you stand up for yourself." — Lesa Cline-Ransome, award-winning author of Finding Langston
"Lindsey Stoddard creates a highly relatable character in Cyrus Olson then puts him on a perfectly paced journey of the heart. Destination: the bravery to reveal his most authentic self to the people he loves."   — Leslie Connor, author of The Truth as Told by Mason Buttle
"This exploration of courage has a good strong heart-beat: both in terms of compassion and suspense." — Newbery award winning author Laura Amy Schlitz
Praise for Right as Rain:  "This touching middle grade novel addresses the heartache of loss while also providing an insightful, accessible introduction to privilege, homelessness, and gentrification. Honest, gut-wrenching, and hopeful, this is a story about letting people in and discovering you're a part of something larger." — School Library Journal (starred review)
"Timely, well-integrated themes, a vibrant setting, and well-drawn, likable characters make this a winner."  — Kirkus Reviews (starred review)
"Stoddard has a knack for writing strong, feisty protagonists [and] her exploration of grief's grip on a family rings true and tender. A remarkable job." — New York Times Book Review
"Stoddard excels at low-key atmosphere and characterization. Rain's an admirably strong and sensitive heroine, and her approach to a tough transition will appeal to many readers." — Bulletin of the Center for Children's Books
"Stoddard has written a beautiful story about a resilient girl many readers will be able to relate to, and she gently hits on tough topics, such as death and divorce, in a tender and truthful manner."  — Booklist
PRAISE FOR Just Like Jackie:  "I was truly moved by this refreshing story about a scrappy young heroine and her struggle to protect her family." — Sara Pennypacker, New York Times bestselling author of Pax
A story about scratching the surface (and welcoming what you find below). It's also a lovely story of acceptance - about what makes a family and how we make our own families, and about embracing our differences." — Ann M. Martin, New York Times bestselling author of Rain Reign
"As close to perfect as a book for middle-grade children can get! Readers will cheer for Robbie as she comes to terms with the family she has and finds the family she needs." — Cammie McGovern, author of Just My Luck
"A coming-of-age novel as feisty, funny, and forthright as its protagonist. Robinson overcomes obstacles with wit, grit, and a growing compassion for others, showing us that families are what we make them and happiness is found in the simple gifts we take for granted. A rich, rewarding read." — John David Anderson, author of Ms. Bixby's Last Day
"Stoddard debuts with a quiet but powerful narrative that gently unpacks Alzheimer's, centers mental health, and moves through the intimate and intense emotional landscape of family—what seems to break one and what can remake it. Validating, heart-rending, and a deft blend of suffering and inspiration." — Kirkus Reviews (starred review)
"This emotionally honest, sensitively written novel confronts a range of difficult topics and offers an inclusive view of what family can look like." — Publishers Weekly (starred review)
"A home-run story that will resonate with all who feel they might not fit into the perfect definition of a family." — School Library Journal