The First to Die at the End (Paperback)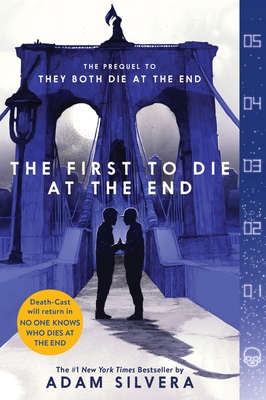 $15.99

Coming Soon - Available for Pre-Order Now
Description
---
In this prequel to the bestselling phenomenon They Both Die at the End, two new strangers spend a life-changing day together after Death-Cast first makes their fateful calls. #1 New York Times bestseller!
It's the night before Death-Cast goes live, and there's one question on everyone's mind: Can Death-Cast actually predict when someone will die, or is it just an elaborate hoax?
Orion Pagan has waited years for someone to tell him that he's going to die. He has a serious heart condition, and he signed up for Death-Cast so he could know what's coming.
Valentino Prince is restarting his life in New York. He has a long and promising future ahead and he only registered for Death-Cast after his twin sister nearly died in a car accident.
Orion and Valentino cross paths in Times Square and immediately feel a deep connection. But when the first round of End Day calls goes out, their lives are changed forever—one of them receives a call, and the other doesn't. Though neither boy is certain how the day will end, they know they want to spend it together…even if that means their goodbye will be heartbreaking.
Told with acclaimed author Adam Silvera's signature bittersweet touch, this story celebrates the lasting impact that people have on each other and proves that life is always worth living to the fullest. 
* A Publishers Weekly Best Book of the Year *
About the Author
---
Adam Silvera is the #1 New York Times and USA Today bestselling author of They Both Die at the End, The First to Die at the End, More Happy Than Not, History Is All You Left Me, the Infinity Cycle, and—with Becky Albertalli—What If It's Us and Here's to Us. He worked in the publishing industry as a children's bookseller, community manager at a content development company, and book reviewer of children's and young adult novels. He was born and raised in New York and now lives in Los Angeles. He is tall for no reason. Visit him online at adamsilvera.com.
Praise For…
---
★ "An extraordinary—no, make that a brilliant—book with a riveting plot. Don't miss this one." — ALA Booklist (starred review)
★ "Heart-wrenching. Silvera crafts a stunning and thought-provoking narrative that examines difficult existential questions without eschewing hope." — Publishers Weekly (starred review)
"Silvera crafts a web of intricately interconnected character perspectives and conflicts. A rush of emotion and suspense." — Kirkus Reviews
★ "Extraordinary and unforgettable." — Booklist, starred review for They Both Die at the End
★ "It's another standout from Silvera. Engrossing, contemplative, and as heart-wrenching as the title promises." — Kirkus Reviews, starred review for They Both Die at the End
★ "Over the course of an eventful day, these thoughtful young men speak honestly and movingly about their fate, their anger at its unfairness, and what it means to be alive, until their budding friendship organically turns into something more." — Publishers Weekly, starred review for They Both Die at the End
★ "Silvera continues to masterfully integrate diversity, disability, and young queer voices into an appealing story with a lot of heart. A must-have for YA shelves." — School Library Journal, starred review for They Both Die at the End
"Adam Silvera uses his ample skill to force readers to examine how they live life now and how they want to live it. They Both Die at the End is a prime example of his skill at asking the most relevant questions of all of us." — Teen Vogue, for They Both Die at the End
"Silvera not only poignantly captures the raw emotion of facing your own morality, but creates such relatable and authentic characters you want to follow on their journey. His gorgeous writing and wonderful storytelling will wreck you in the very best possible way." — BuzzFeed, for They Both Die at the End
"Themes of friendship, love, loss, and fate combine in this novel that should be read with a box of tissues close at hand." — Brightly, for They Both Die at the End
"A bold, lovely, and haunting story of loss, hope, and the redeeming power of friendship." — Lauren Oliver, New York Times bestselling author of Before I Fall, for They Both Die at the End