Mondrian's Dress: Yves Saint Laurent, Piet Mondrian, and Pop Art (Hardcover)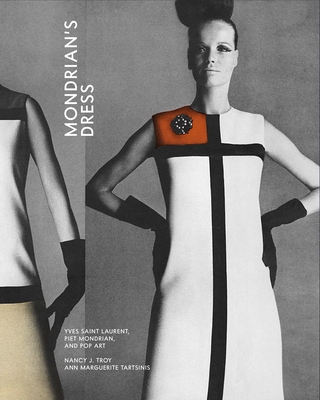 $49.95
Email or call for price
Description
---
An extraordinary look at how the style of Piet Mondrian's abstract paintings was posthumously appropriated by 1960s fashion, Pop art, and consumer culture.

Yves Saint Laurent's 1965 Mondrian dresses are among the twentieth century's most celebrated and recognizable fashions, but the context of their creation involves much more than meets the eye. In Mondrian's Dress, Nancy J. Troy and Ann Marguerite Tartsinis offer a fresh approach to the coupling of Piet Mondrian's interwar paintings with Saint Laurent's couture designs by exposing the rampant merchandising and commodification that these works experienced in the 1960s. The authors situate the consolidation of Saint Laurent's fashion brand alongside the work of such Pop artists as Roy Lichtenstein, Andy Warhol, and Tom Wesselmann, and show how conventional understandings of Mondrian's avant-garde abstractions were transformed by the mass circulation of his signature style.

Beyond its attention to 1960s fashion, Pop art, and consumer culture, Mondrian's Dress offers critical assessments of Saint Laurent's so-called dialogue with art, the remarkable art collection that he built with his partner Pierre Berge, and the crucial role that photography plays in the marketing of couture. The first book-length study of its kind, Mondrian's Dress is a provocative reevaluation of how art, commerce, and fashion became fundamentally intertwined in the postwar period.
About the Author
---
Nancy J. Troy is Victoria and Roger Sant Professor in Art Emerita at Stanford University. She is the author of Couture Culture: A Study in Modern Art and Fashion, Architecture and Cubism (edited with Eve Blau), and The De Stijl Environment (all published by the MIT Press), among other books on twentieth-century art and visual culture.

Ann Marguerite Tartsinis is a scholar of twentieth-century American art, craft, and design. From 2010 to 2016, she was Associate Curator at the Bard Graduate Center and is the author of An American Style: Global Sources for New York Textile and Fashion Design, 1915–1928.
Praise For…
---
"When Piet Mondrian started making his geometric abstractions in primary colors, he was going for something accessible: breaking down images into their purest and simplest forms. But they didn't refer to reality in recognizable ways, and, to some, their harsh lines came off as cold and uninviting. After his death, however, in a posthumous collaboration with fashion designer Yves Saint Laurent in 1965, Mondrian's work was finally able to reach the mass audience he always wanted. This glamorous yet scholarly book from MIT Press tells the story in the context of that era's Pop art."
—Art in America


"Celebrating the 1965 launch of Yves Saint Laurent's iconic frock, Mondrian's Dress by Nancy J. Troy and Ann Marguerite Tartsinis documents the spectacular, fortuitous collision of French couture, Dutch abstract art, and American pop culture that resulted from that simple yet striking dress. Talented storytellers with a true passion for their subject matter, art scholars Troy and Tartsinis embellish Mondrian's Dress with lavish photography, newspaper and magazine articles from the era, and eye-catching graphics illustrating the 'phenomenal impact' of Saint Laurent's geometric patterned dress on New York street fashion. This elegant coffee-table collectible is sure to intrigue readers with its animated exploration of the 'manifold connections' between fashion and art in the pop-culture explosion of the swinging '60s."
—Shelf Awareness