The Chaos Machine: The Inside Story of How Social Media Rewired Our Minds and Our World (Paperback)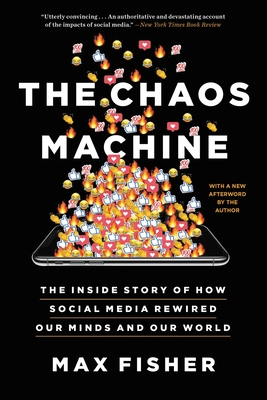 $18.99

Usually Ships in 1-5 Days
Description
---
Finalist for the Helen Bernstein Book Award for Excellence in Journalism

From a New York Times investigative reporter, this "authoritative and devastating account of the impacts of social media" (New York Times Book Review)  tracks the high-stakes inside story of how Big Tech's breakneck race to drive engagement—and profits—at all costs fractured the world. The Chaos Machine is "an essential book for our times" (Ezra Klein).
We all have a vague sense that social media is bad for our minds, for our children, and for our democracies. But the truth is that its reach and impact run far deeper than we have understood. Building on years of international reporting, Max Fisher tells the gripping and galling inside story of how Facebook, Twitter, YouTube, and other social network preyed on psychological frailties to create the algorithms that drive everyday users to extreme opinions and, increasingly, extreme actions. As Fisher demonstrates, the companies' founding tenets, combined with a blinkered focus on maximizing engagement, have led to a destabilized world for everyone.

Traversing the planet, Fisher tracks the ubiquity of hate speech and its spillover into violence, ills that first festered in far-off locales, to their dark culmination in America during the pandemic, the 2020 election, and the Capitol Insurrection. Through it all, the social-media giants refused to intervene in any meaningful way, claiming to champion free speech when in fact what they most prized were limitless profits. The result, as Fisher shows, is a cultural shift toward a world in which people are polarized not by beliefs based on facts, but by misinformation, outrage, and fear.

His narrative is about more than the villains, however. Fisher also weaves together the stories of the heroic outsiders and Silicon Valley defectors who raised the alarm and revealed what was happening behind the closed doors of Big Tech. Both panoramic and intimate, The Chaos Machine is the definitive account of the meteoric rise and troubled legacy of the tech titans, as well as a rousing and hopeful call to arrest the havoc wreaked on our minds and our world before it's too late.
About the Author
---
Max Fisher is an international reporter for the New York Times, where he authors a column called "The Interpreter," which explains global trends and major world events, and where he contributed to a series about social media that was a finalist for the Pulitzer Prize in 2019. Fisher previously covered international affairs at The Atlantic and the Washington Post. He lives in Los Angeles.
Praise For…
---
"The Chaos Machine is an authoritative and devastating account of the impacts of social media . . . The way the book connects the dots is utterly convincing and should obliterate any doubts about the significance of algorithmic intervention in human affairs."—New York Times Book Review

"A stark warning about the extent to which Facebook et al distort our perception of reality."—The Guardian

"The single most complete understanding of how social media has rewired our brains, our culture, and our politics that I have ever read. It's outstanding."—Jon Favreau, Offline

"A sobering investigation into the effects of platforms including Facebook, Twitter, and YouTube. Tracking political movements that spread over social media, both in America and worldwide, Fisher describes how algorithms . . . systematically promote extreme content that sparks moral outrage and forges group identities united by a sense of threat."—The New Yorker

"Fisher has drawn together a chilling record of the cultural and commercial imperatives behind violent events, and how the perversity of machines and of people, working in tandem, have upended life around the globe."—Air Mail

"Well argued, engaging, and often necessarily discomforting… The Chaos Machine's greatest achievement is perhaps how skillfully it traces seemingly disparate phenomena back to the design of social media platforms that prioritize engagement at all costs… At a time when calls for the regulation of platforms is growing ever louder, Fisher makes an urgent, compelling case for change."—Mary McGill, Irish Independent

"Social media isn't just changing our lives. It's changing the world, and even its creators and would-be overseers have only the foggiest ideas about how. In this meticulously reported, grippingly told account, Max Fisher chases the results across continents, and paints a disturbing picture of not just where we are, but where we're going. The Chaos Machine is an essential book for our times."—Ezra Klein, author of the New York Times bestseller Why We're Polarized

"Well-researched and thoroughly unnerving… Fisher's lucid, clear explanations and convincing arguments are bound to leave readers questioning their own use of social media."—Booklist (starred review)

"A scathing account of the manifold ills wrought by social media… There's no shortage of books lamenting the evils of social media, but what's impressive here is how Fisher brings it all together: the breadth of information, covering everything from the intricacies of engagement-boosting algorithms to theories of sentimentalism, makes this a one-stop shop. It's a well-researched, damning picture of just what happens online."—Publishers Weekly

"An often riveting, disturbing examination of the social media labyrinth and the companies that created it… Fisher dives into the chaotic social media landscape, synthesizing dozens of interviews from a wide range of sources… he examines the rise of the social media giants and the dangers they have created for our society… Fisher is spot-on when he describes how the promotion and manufacture of moral outrage were not glitches in the system but inherent features."—Kirkus Reviews

"In this timely book, Max Fisher reveals how powerful social-media giants set all of humanity on an alternative course to the future. The Chaos Machine boldly exposes how a few technology companies chose profit over people, helped spread salacious misinformation, and ultimately ripped the fabric of society apart. I hope everyone will read this important investigation with an open mind, because we must choose a different path forward, and fast."—Amy Webb, author of The Big Nine: How the Tech Titans and Their Thinking Machines Could Warp Humanity

"Max Fisher blends together deep reporting, riveting stories, and a global canvas in this gripping and definitive work on the damage wrought by social media. The Chaos Machine is essential reading if you want to understand a force that is reshaping the world and the very real consequences it is having on people everywhere."—Ben Rhodes, author of the New York Times bestseller The World as It Is: A Memoir of the Obama White House