The Very Quiet Cricket (Hardcover)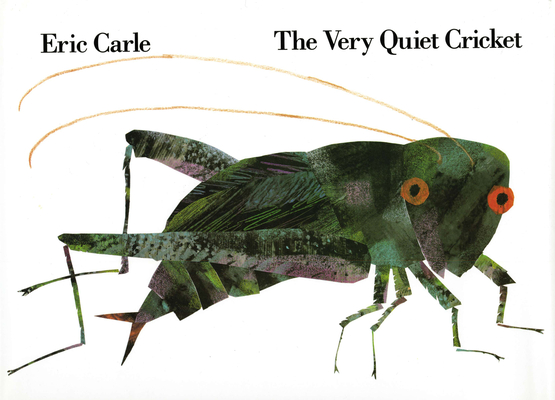 $24.99

Usually Ships in 1-5 Days
Description
---
From bestselling author and illustrator Eric Carle, the creator of The Very Hungry Caterpillar, comes another classic tale about one very quiet cricket. A perfect gift to share with the child or grandchild in your life.

One day a tiny cricket is born and meets a big cricket who chirps his welcome. The tiny cricket tries to respond, but there is no sound. The quiet cricket then makes his way into the world, meeting one insect after another, each of whom greets the little cricket with a cheery hello--the hum of a bee, the whirr of a dragonfly, the whisper of a praying mantis. The cricket rubs his wings together each time, but nothing happens, not a sound. Until the day he meets another cricket, a female, and something different happens . . .

As children turn the page on this wonderful moment, they are greeted with a surprise--an actual chirp!

Full of Eric Carle's gorgeous and lush collage art, a gentle rhythmic text for read-alouds, and a wonder-inducing surprise at the end, The Very Quiet Cricket remains an all-time favorite from one of the true masters of picture-book making.
Batteries are replaceable. Please use two 1.5 volt L1131 button cell batteries.

Praise for The Very Quiet Cricket:

"Typical of Carle's style, the language is simple, with rhythm, repetition, and alliteration to delight young listeners. Painted collage illustrations are lavish and expressive."--School Library Journal
 
"The text is skillfully shaped; the illustrations convey energy and immediacy."--Horn Book

"As usual, Carle's art is lovely and his story is simple and satisfying."--Publishers Weekly

"Carle's signature style ensures that this is a visual standout, and storywise it's appealing, too....The spare text is structured by repetitive phrasing that will lend itself to read-aloud responses."--Booklist
About the Author
---
Eric Carle is acclaimed and beloved as the creator of brilliantly illustrated and innovatively designed picture books for very young children. His best-known work, The Very Hungry Caterpillar, has been translated into 70 languages and sold over 55 million copies. Carle illustrated more than seventy books, many best sellers, most of which he also wrote, and more than 170 million copies of his books have sold around the world. In 2003, Carle received the Laura Ingalls Wilder Award (now called the Children's Literature Legacy Award) for lifetime achievement in children's literature. In 2002, Eric and his wife, Barbara, cofounded The Eric Carle Museum of Picture Book Art (www.carlemuseum.org) in Amherst, Massachusetts, a 40,000-square-foot space dedicated to the celebration of picture books and picture book illustrations from around the world, underscoring the cultural, historical, and artistic significance of picture books and their art form. Eric Carle passed away in May 2021 at the age of 91. His work remains an important influence on artists and illustrators at work today. www.eric-carle.com
Praise For…
---
Praise for The Very Quiet Cricket:

"Typical of Carle's style, the language is simple, with rhythm, repetition, and alliteration to delight young listeners. Painted collage illustrations are lavish and expressive."--School Library Journal
 
"The text is skillfully shaped; the illustrations convey energy and immediacy."--Horn Book

"As usual, Carle's art is lovely and his story is simple and satisfying."--Publishers Weekly

"Carle's signature style ensures that this is a visual standout, and storywise it's appealing, too....The spare text is structured by repetitive phrasing that will lend itself to read-aloud responses."--Booklist