Would Like to Meet (Paperback)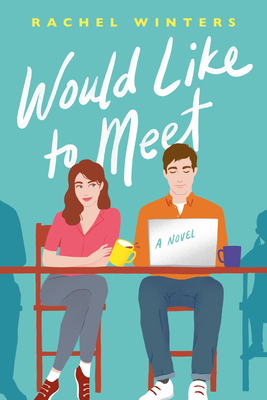 $16.00
Email or call for price
Staff Reviews
---
"This book is absolutely ridiculous. Which means I laughed out loud a lot. If you like rom-coms and meet cutes, this book is great." - Liz, Read Between The Lynes staffer
— From
Liz's Favorites
Description
---
Can you fall in love like they do in the movies?

It's Evie Summers's job to find out. Because if she can't convince her film agency's biggest client, Ezra Chester, to write the romantic-comedy screenplay he owes producers, her career will be over. The catch? He thinks rom-coms are unrealistic--and he'll only put pen to paper if Evie shows him that it's possible to meet a man in real life the way it happens on the big screen.

Cynical Evie might not believe in happily ever after, but she'll do what it takes to save the job that's been her lifeline . . . even if it means reenacting iconic rom-com scenes in public. Spilling orange juice on a cute stranger? No problem. Leaving her number in books all over London to see who calls? Done. With a little help from her well-meaning friends--and Ben and Anette, the adorable father-daughter duo who keep witnessing her humiliations--Evie is determined to prove she can meet a man the way Sally met Harry. But can a workaholic who's given up on love find a meet-cute of her very own?
About the Author
---
Rachel Winters is single and living in London. In addition to completing a creative writing MA, she's spent most of her twenties freelancing for local papers and online magazines--including editing a craft magazine and writing a weekly column about pets (though she doesn't own any). It's very Sex and the City. She likes long walks in the country, big cities and firmly believes there are few problems that can't be solved with good friends and very large glasses of wine. She's currently an editor at Orion Books.
Praise For…
---
"Would Like to Meet is a fun, lighthearted — and at times laugh-out-loud — debut novel that seeks to highlight the power and purpose of a rom-com…It's a reminder that the best meet-cutes happen when they're least expected."—San Francisco Chronicle

"Kept me turning pages way past my bedtime."—NPR

"Evie is a scrappy, winning heroine....The references to classic films of the genre will delight rom-com fans, as will the sweet romance. The best scenes, though, are with Evie and her three best friends, who have the warmly mocking dynamic of friends in a Richard Curtis film. A lovely, humorous ode to romantic comedies."—Kirkus Reviews

"Winters's charming debut combines tropes from classic romantic comedy films to hilarious effect….Winters employs self-aware, genre-savvy characters to expertly balance humor and heart. This adorable romance is a love letter to cinephiles."—Publishers Weekly (starred review)

"Utterly charming…[A] winning tale"—Booklist

"Winters offers a relatable take on modern dating, writing, and working. Movie aficionados, in particular, will enjoy references to iconic rom-com moments as lovable, overworked Evie navigates her own series of meet-cute mishaps."—Library Journal

"A lively, laugh-out-loud story...Debut author Rachel Winters hits all the right notes in Would Like to Meet, a fun and lively millennial rom-com with a heartfelt message that cleverly plays off tropes from a host of contemporary romance movies."—Shelf Awareness

"[An] uplifting (and surprisingly deep) contemporary ode to movie rom-coms…This fiction debut refreshes and cheers the soul."—Christian Science Monitor