Red Seas Under Red Skies (Gentleman Bastards #2) (Mass Market)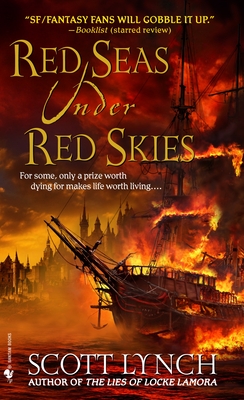 $9.99

Usually Ships in 1-5 Days
Other Books in Series
This is book number 2 in the Gentleman Bastards series.
Description
---
In his highly acclaimed debut, The Lies of Locke Lamora, Scott Lynch took us on an adrenaline-fueled adventure with a band of daring thieves led by con artist extraordinaire Locke Lamora. Now Lynch brings back his outrageous hero for a caper so death-defying, nothing short of a miracle will pull it off.

After a brutal battle with the underworld that nearly destroyed him, Locke and his trusted sidekick, Jean, fled the island city of their birth and landed on the exotic shores of Tal Verrar to nurse their wounds. But even at this westernmost edge of civilization, they can't rest for long—and are soon back to what they do best: stealing from the undeserving rich and pocketing the proceeds for themselves.

This time, however, they have targeted the grandest prize of all: the Sinspire, the most exclusive and heavily guarded gambling house in the world. Its nine floors attract the wealthiest clientele—and to rise to the top, one must impress with good credit, amusing behavior…and excruciatingly impeccable play. For there is one cardinal rule, enforced by Requin, the house's cold-blooded master: it is death to cheat at any game at the Sinspire.

Brazenly undeterred, Locke and Jean have orchestrated an elaborate plan to lie, trick, and swindle their way up the nine floors…straight to Requin's teeming vault. Under the cloak of false identities, they meticulously make their climb—until they are closer to the spoils than ever.

But someone in Tal Verrar has uncovered the duo's secret. Someone from their past who has every intention of making the impudent criminals pay for their sins. Now it will take every ounce of cunning to save their mercenary souls. And even that may not be enough.…

Praise for Red Seas Under Red Skies

"Lynch hasn't merely imagined a far-off world, he's created it, put it all down on paper—the smells, the sounds, the people, the feel of the place. The novel is a virtuoso performance, and sf/fantasy fans will gobble it up."—Booklist (starred review)

"Red Seas Under Red Skies firmly proves that Scott Lynch isn't a one-hit wonder. . . . It'll only be a matter of time before Scott Lynch is mentioned in the same breath as George R. R. Martin and Steven Erikson."—Fantasy Book Critic

"Grand, grandiose, grandiloquent . . . No critic is likely to fault Lynch in his overflowing qualities of inventiveness, audacious draftsmanship, and sympathetic characterization."—Locus
About the Author
---
Scott Lynch was born in St. Paul, Minnesota, in 1978 and currently lives in Wisconsin and frequently visits Massachusetts, the home of his partner, SF/F writer Elizabeth Bear. He moonlights as a game designer and volunteer firefighter. This is his second novel.
Praise For…
---
PRAISE FOR SCOTT LYNCH
 
"A bright new voice in the fantasy genre."—George R. R. Martin
 
Red Seas Under Red Skies
 
"Lynch hasn't merely imagined a far-off world, he's created it, put it all down on paper—the smells, the sounds, the people, the feel of the place. The novel is a virtuoso performance, and sf/fantasy fans will gobble it up."—Booklist (starred review)
 
"Red Seas Under Red Skies firmly proves that Scott Lynch isn't a one-hit wonder. . . . It'll only be a matter of time before Scott Lynch is mentioned in the same breath as George R. R. Martin and Steven Erikson."—Fantasy Book Critic
 
"Grand, grandiose, grandiloquent . . . No critic is likely to fault Lynch in his overflowing qualities of inventiveness, audacious draftsmanship, and sympathetic characterization."—Locus
 
"The kind of witty romp that reminds you exactly how much fun heroic fantasy is supposed to be."—SFX

The Lies of Locke Lamora
 
"Right now, in the full flush of a second reading, I think The Lies of Locke Lamora is probably in my top ten favorite books ever. Maybe my top five. If you haven't read it, you should. If you have read it, you should probably read it again."—Patrick Rothfuss, New York Times bestselling author of The Name of the Wind