The Wildest Sun: A Novel (Hardcover)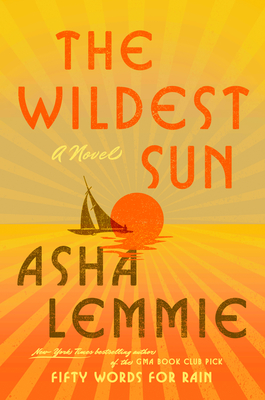 $28.00

Usually Ships in 1-5 Days
December 2023 Indie Next List
---
"Asha Lemmie grants us a new look into her creativity with a novel about a woman who embarks on a mission to find her father: Ernest Hemingway. A homage to the dreams we hold dear; This is a book of adventure, expectations, love and hope. Enjoy!"
— Linda Bond, Auntie's Bookstore, Spokane, WA
Description
---
Following her New York Times bestselling debut Fifty Words for Rain, Asha Lemmie's next sweeping and evocative novel introduces a determined young woman's search for the larger-than-life literary figure she believes to be her father.

When tragedy forces Delphine Auber, an aspiring writer on the cusp of adulthood, from her home in postwar Paris, she seizes the opportunity to embark on the journey she's long dreamed of: finding the father she has never known. But her quest—spanning from Paris to New York's Harlem, to Havana and Key West—is complicated by the fact that she believes him to be famed luminary Ernest Hemingway, a man just as elusive as he is iconic. She desperately yearns for his approval, as both a daughter and a writer, convinced that he holds the key to who she's truly meant to be. But what will happen if she is wrong, or if her real story falls outside of the legend of her parentage that she's revered all her life? 
 
The Wildest Sun is a dazzling, unexpected, and transportive story about coming into adulthood—from escaping our pasts, to the stories we tell ourselves, to the ambition that drives us—as we seek to find out who we are.
About the Author
---
Asha Lemmie is the New York Times bestselling author of Fifty Words For Rain and The Wildest Sun. She holds a BA in English Literature from Boston College and is currently a graduate student at Columbia University. She resides in New York City but can frequently be found wandering. Asha writes historical fiction that focuses on bringing unique perspectives to life.
Praise For…
---
"A touching coming-of-age tale.... A strong story with an engaging protagonist."
—Kirkus

"The Wildest Sun is an emotional, hypnotizing, and powerful ride."
—Shondaland, "The Best Books for December 2023"

"The Wildest Sun is an epic quest for identity and a tender search for selfhood as a woman and a writer. Asha Lemmie is a master of the heart and with her we meet the vulnerable Delphine as she searches for the larger-than-life man who might be her father. Through decades and across continents, The Wildest Sun is an inspiring and compelling novel. Lemmie's insightful observations into the writers life with its hopes, fears, and creativity is the lifeblood of this courageous journey for the truth."
—Patti Callahan Henry, New York Times Bestselling author of The Secret Book of Flora Lea

"From France to Cuba, from war to revolution, The Wildest Sun is a moving meditation on the stories we tell others, the stories we tell ourselves, and how we break free of the past in order to write a brighter future. Simply marvelous!"
—Janet Skeslien Charles, New York Times bestselling author of The Paris Library

"A portrait of a young woman finding herself amidst personal and historical turmoil, The Wildest Sun is bristling with courage, yet tender with vulnerability. Asha Lemmie, like her protagonist Delphine, is proving to the world that she is a literary force as she comes into her own with her astonishingly creative and accomplished sophomore epic."
—Sarah Addison Allen, New York Times bestselling author of Other Birds

"The Wildest Sun is a gripping portrait of the artist as a young woman that lays bare the complexities of family trauma, fraught inheritance, and creative ambition. While chasing the famous father whom she views as a lodestar across oceans and time in the post-WWII years, the protagonist Delphine Auber Hemingway must ultimately learn that she, too, shines. With a deeply satisfying ending revealing of life's core truths, The Wildest Sun shows how even amid personal loss and political tumult, art can be a life companion, loyal to the end."
—Tiya Miles, National Book Award Winner and New York Times bestselling author of All That She Carried and The Cherokee Rose

"Lemmie follows up her smash debut Fifty Words for Rain with a poetic and moving portrayal of Delphine Auber, a lost young woman searching for the man she needs to believe is her father: Ernest Hemingway. Rarely has a literary protagonist grown on this reader more, as Delphine builds a new family for herself in post-war America and pre-revolutionary Cuba, and commits to her own unique gifts in life. The Wildest Sun is an entrancing and wonderfully surprising novel that explores the burden of memory, the bounty of the past and the true source of all great endeavor: ourselves."
—Natalie Jenner, internationally bestselling author of The Jane Austen Society

"Asha Lemmie's THE WILDEST SUN is an entrancing exploration of the way stories shape our lives – the stories we read and the stories we tell, even to ourselves. Steeped in a rich and fascinating history and written with a fine lyricism, this book is sure to be a hit with individual readers and book clubs alike."
—Kelly Rimmer, New York Times bestselling author of The Paris Agent