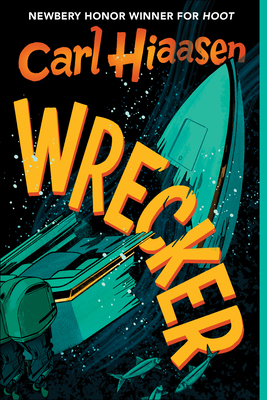 $18.99

Usually Ships in 1-5 Days
Description
---
#1 NEW YORK TIMES BESTSELLER • Wrecker needs to deal with smugglers, grave robbers, and pooping iguanas—just as soon as he finishes Zoom school. Welcome to another wild adventure in Carl Hiaasen's Florida!

Valdez Jones VIII calls himself Wrecker because his great-great-great-great-great-grandfather salvaged shipwrecks for a living.

So is it destiny, irony, or just bad luck when Wrecker comes across a speedboat that has run hard aground on a sand flat? The men in the boat don't want Wrecker to call for help—in fact, they'll pay him to forget he ever saw them.

Wrecker would be happy to forget, but he keeps seeing these men all over Key West—at the marina, in the cemetery, even right outside his own door. And now they want more than his silence—they want a lookout.

He'll have to dive deep into their shady dealings to figure out a way to escape this tangled net. . . .
About the Author
---
CARL HIAASEN was born and raised in Florida, where he still lives. He is the author of many bestselling novels, including Squeeze Me and Nature Girl, as well as Assume the Worst: The Graduation Speech You'll Never Hear. His books for younger readers include the Newbery Honor winner Hoot, as well as Flush, Scat, Chomp, Skink—No Surrender, and Squirm.
Praise For…
---
★ "Hiaasen packs his tale with rich character details, local history, and present-day concerns, all while carefully spinning a layered mystery that gets more serious with every turn. One heck of a ride."—Booklist, starred review

"A batten-down-the-hatches thriller anchored by critical real-life themes." —Kirkus Reviews

"Action-packed and endlessly funny." — Shelf Awareness

"A beautifully told mystery with plenty of action and heart." —The Horn Book

"Hiaasen blends ecological conservation, family drama, and Key West history. Multilayered, with all the hallmarks of a thrilling heist." —Publishers Weekly