Intermittent Fasting Transformation: The 45-Day Program for Women to Lose Stubborn Weight, Improve Hormonal Health, and Slow Aging (Paperback)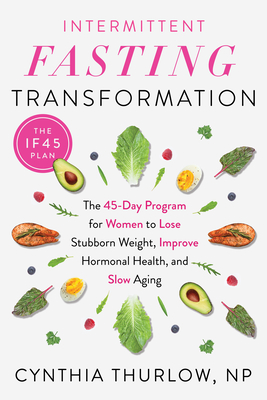 $25.00

Usually Ships in 1-5 Days
Description
---
Discover the customized nutrition plan that will help you be lean, fit, more youthful, sexier, and full of energy—at every stage of life.

Designed specifically for women, this individualized six-week intermittent fasting program is the sustainable solution to help you feel and look your absolute best. Based on the scientifically proven 16:8 fasting model, what makes this program unique is that it is geared toward your hormonal needs at every stage in life–whether you are cycling or in perimenopause, menopause, or beyond. Intermittent Fasting Transformation will help you:
 

  •  lose weight steadily and burn fat without hunger, cravings, or plateaus–and keep it off
  •  balance your hormones for better metabolic health and wellness, while easing symptoms associated with perimenopause and menopause
  •  experience a huge boost in physical and mental energy all day long
  •  learn what foods best support weight loss, detoxification, and overall health
  •  lift brain fog and help you sleep better
  •  put aging in reverse . . . and so much more.


Cynthia Thurlow, a nurse practitioner and an internationally known women's health expert whose viral TEDx Talk has received more than 10 million views, developed this breakthrough plan after entering perimenopause in her forties. Intermittent fasting didn't just help her lose weight; she had more energy, fewer cravings, and lower blood glucose levels. Thurlow has now worked with thousands of women in her private practice to make her unique program of intermittent fasting work for them, too.

With meal plans and 50 recipes, along with advice for supercharging your fast, this plan will transform your life, slow down the aging process, and help you reclaim your health and well-being.
About the Author
---
Cynthia Thurlow is a nurse practitioner, CEO and founder of the Everyday Wellness Project, and international speaker, with over 9.6 million views for her second TEDx talk (Intermittent Fasting: Transformational Technique). With over 20 years experience in health and wellness, Cynthia is a globally recognized expert in intermittent fasting and nutritional health, and has been featured on ABC, FOX5, KTLA, CW, Medium, Entrepreneur, and The Megyn Kelly Show.
Praise For…
---
"Cynthia Thurlow is a true pioneer in women's health. Countless women in her practice have experienced dramatic physical changes and improved health markers from her unique intermittent fasting plan, and now women everywhere can benefit from her vast knowledge and lifechanging advice. Essential reading!" – Jason Fung, MD, author of The Obesity Code

"Intermittent fasting will change how you feel every single day. It will keep you young or even reverse the clock. Fasting is different for women. Read this book now to discover Cynthia Thurlow's unique take on fasting." – Dave Asprey, author of The Bulletproof Diet
 
"Women shouldn't intermittent fast like men! Whether you are cycling, in perimenopause, or menopause, Cynthia's IF45 plan will fit your needs to boost energy levels, improve sleep quality, prevent weight gain, and feel better than ever in your body." – JJ Virgin, New York Times-bestselling author of The Virgin Diet
 
"Ever since Cynthia Thurlow's TEDx Talk, 'Intermittent Fasting: Transformational Technique,' went viral in 2019, she has been considered a top thought leader in the field of IF and women's health. Her new book, Intermittent Fasting Transformation, puts all of her best advice for women in one place. Spoiler alert: intermittent fasting is safe for women, and Cynthia explains it through the lens of her personal journey and also her expertise as a nurse practitioner." – Gin Stephens, New York Times bestselling author of Fast. Feast. Repeat., Clean(ish), and Delay, Don't Deny
 
"Fascinating and so accessible... Cynthia Thurlow has cracked the code on how hormones affect weight loss and why intermittent fasting is such a game changer for women.  It's a must-read for women looking for a nutrition plan that fits easily into their lives and takes their health and total wellness to the next level." – Robb Wolf, bestselling author of The Paleo Solution and Wired to Eat
 
"This book is the complete guide to women's health. Cynthia outlines a brilliant 45-day program to harness the healing benefits of fasting. It's important to understand that women should practice intermittent fasting differently than men, and Cynthia shares how women of all ages can use this tool properly. This book will change the lives of so many!" – Ben Azadi, bestselling author of Keto Flex and founder of Keto Kamp

"We have come to a point in time when well-designed programs to help optimize women is deeply needed in the face of an epidemic of confusion. We need Cynthia's work now more than ever. Her dedication to helping transform lives and commitment to good science practices is exceptional. She does a wonderful job in providing a framework for women to gain control of their health and weight. As a fellowship trained physician in the area of nutrition/obesity medicine and geriatrics as well as founder of The Institute for Muscle-Centric Medicine, I love Cynthia's work and am excited for it to get into the hands of the reader."  – Dr. Gabrielle Lyon, DO, founder of the Institute for Muscle-Centric Medicine

"This groundbreaking, deeply researched book is the only diet plan truly tailored to women.  But the benefits go far beyond weight loss–with Cynthia's plan women can unlock their metabolic health to help slowdown the effects of aging, protect themselves against disease, and feel energized, strong, and vibrant." – Benjamin Bikman, PhD, scientist and author of Why We Get Sick