Harlem at Four (Hardcover)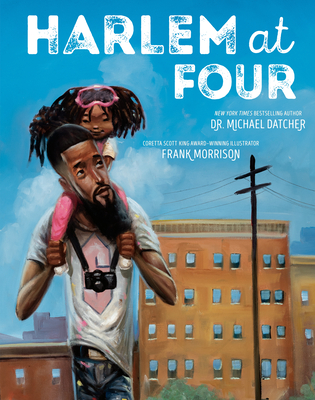 $18.99

Usually Ships in 1-5 Days
Description
---
A stunning picture book comprising two incredible stories—the first part chronicles the adventures of a four-year-old Black girl named Harlem, while the second part describes the history of Harlem the neighborhood. From a New York Times bestselling author and a critically acclaimed illustrator.

In this beautiful picture book in two parts, meet Harlem: the girl and the neighborhood. Part one follows the adventures of a little girl named Harlem and her single father as they go on a museum "playdate" with painters Romare Bearden and Jean-Michel Basquiat, listen to John Coltrane records, and conduct science experiments in their apartment ("The volcano erupts /Red lava on Valentine's Day!").

Part two takes us back to the fourth year of the twentieth century in Harlem the neighborhood. Here, we are introduced to Philip A. Payton Jr., aka Papa Payton, whose Afro-American Realty Company gave birth to the Black housing explosion, helping to start America's Great Black Migration. Because of Papa Peyton, Black families—like Harlem and her father a century later—could move to Harlem and thrive and flourish.

This is a completely unique, absolutely gorgeous picture book by a New York Times bestselling author and a Coretta Scott King Award-winning illustrator that weaves together the lives of a modern Black family and a historically Black neighborhood in New York City.
About the Author
---
Dr. Michael Datcher received his B.S. from UC Berkeley and his Ph.D. from UC Riverside in English Literature. He is the author of the New York Times Bestseller Raising Fences and the critically-acclaimed Ferguson-area historical novel Americus. His book Animating Black and Brown Liberation: A Theory of American Literatures was nominated for the Pulitzer Prize. Datcher has made numerous media appearances, including Oprah, Today Show and Dateline. Dr. Michael Datcher is a Clinical Assistant Professor of Writing at New York University's School of Liberal Studies.

Frank Morrison started his journey as a graffiti artist in New Jersey, tagging walls with spray paint. It wasn't until he visited the Louvre Museum in Paris as part of the Sugar Hill Gang's dance entourage that he realized painting was his true creative path. His work has been featured at Art Basel, SCOPE Miami Beach, and Red Dot art fairs, and shown at the Schomburg Center for Research in Black Culture and the Mason Fine Art Gallery in Atlanta. He is the illustrator of over twenty children's books, including the Coretta Scott King Illustrator Award winner R-E-S-P-E-C-T, the Coretta Scott King-John Steptoe Award winner Jazzy Miz Mozetta, and the Coretta Scott King Illustrator Honor books Little Melba and Her Big Trombone and Let the Children March. Frank was a Society of Illustrators Original Art Silver Medal Honoree two years in a row, for The Roots of Rap and R-E-S-P-E-C-T.
Praise For…
---
"Datcher's illuminating verse, spare yet sweeping, offers readers snapshots of the community's history." —The New York Times

★ "This book is a beautiful celebration of ­Harlem's history and a loving relationship between a father and daughter." —School Library Journal, starred review

★ "This is a loving ode to Black fatherhood, art in all its forms, and a neighborhood bound together by culture and community." —The Bulletin, starred review

"Fans of Cherry and Harrison's Hair Love (also centering a father and daughter) will enjoy this love letter to a neighborhood, family, and Black history." —The Horn Book

"Datcher's affectionate lines and Morrison's luminous portraiture result in a loving past-and-present look at two Harlems." —Publishers Weekly