Didn't See That Coming (Paperback)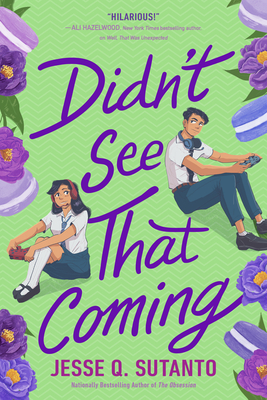 $12.99

Usually Ships in 1-5 Days
Description
---
A hilariously fresh and romantic send-up to You've Got Mail about a gamer girl with a secret identity and the online bestie she's never met IRL until she unwittingly transfers to his school, from the bestselling author of Dial A for Aunties, The Obsession, and Well, That Was Unexpected.

Seventeen-year-old Kiki Siregar is a fabulous gamer girl with confidence to boot. She can't help but be totally herself… except when she's online.

Her secret? She plays anonymously as a guy to avoid harassment from other male players. Even her online best friend—a cinnamon roll of a teen boy who plays under the username Sourdawg—doesn't know her true identity. Which is fine, because Kiki doesn't know his real name either, and it's not like they're ever going to cross paths IRL.

Until she transfers to an elite private school for her senior year and discovers that Sourdawg goes there, too.

But who is he? How will he react when he finds out Kiki's secret? And what happens when Kiki realizes she's falling for her online BFF?
About the Author
---
Jesse Q Sutanto is the author of the YA thrillers The Obsession and The New Girl and the adult rom com Dial A for Aunties. She grew up shuttling back and forth between Indonesia, Singapore, and Oxford and considers all three places her home. She has a master's from Oxford University, but she has yet to figure out how to say that without sounding obnoxious. Jesse has forty-two first cousins and thirty aunties and uncles, many of whom live just down the road. She used to game, but with two little ones and a husband, she no longer has time for hobbies. She aspires to one day find one (1) hobby.
Praise For…
---
Praise for Didn't See That Coming:

★ "An adorkably inclusive YA romance that is both fiery and earnest."—Booklist, starred review

"Sparkling humor, vivacious storytelling, and occasionally theatrical scenarios inject levity into this perceptive romp."—Publishers Weekly

"Rollicking fun." —Kirkus Reviews