Nosy Neighbors (Paperback)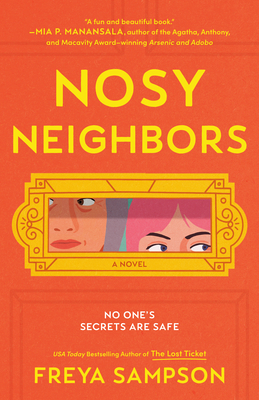 $18.00

Coming Soon - Available for Pre-Order Now
Description
---
Nothing brings neighbors together like someone else's secrets… At Shelley House, the walls have ears, and they're attached to a ragtag duo of busybodies ready to pry, snoop, and generally annoy their neighbors into solving a crime.
 
Seventy-seven-year-old Dorothy Darling has lived in Shelley House longer than any of the other residents, and if you take their word for it, she's as cantankerous as they come. But Dorothy has her reasons for spying. And none of them require justifying herself to Kat Bennett. 
 
Twenty-five-year-old Kat has never known a place where she felt truly at home, and crumbling Shelley House is no different. Her neighbors find her prickly and unapproachable, but beneath her tough exterior, Kat's plagued by a guilty secret from her past.
 
When their apartments face demolition, sworn enemies Kat and Dorothy agree on just one thing: they must save their historic building. But when someone plays dirty—and one of the residents is viciously taken down—Dorothy and Kat seek justice. The police close the investigation too soon, leaving it up to the unlikely amateur sleuths—with a playful Jack Russell terrier at their side—to restore peace in their community.
About the Author
---
Freya Sampson works in television as a creator and executive producer. Her credits include two documentary series for the BBC about the British royal family as well as a number of factual and entertainment series. She studied history at Cambridge University and in 2018 was short-listed for the Exeter Novel Prize. She lives in London with her husband, two young children, and an antisocial cat.
Praise For…
---
"Freya Sampson is a master at creating complicated, nuanced characters you care deeply about and Nosy Neighbors is no exception! While a mystery is the central engine of the book, the true story lies in the mundane lives of the residents of Shelley House and the pain each person carries within them. A fun and beautiful book about the devastating power secrets can have on our lives and the many ways community can help you heal."–Mia P. Manansala, author of the Agatha, Anthony, and Macavity Award-winning Arsenic and Adobo
 
"Sampson delivers a lovely cozy crime mystery! A pair of mismatched sleuths cleverly unite their mistrustful London apartment building community in a story of found family that brims over with warmth and charm."—USA Today bestselling author Sherry Thomas
 
"Nosy Neighbors is addictive reading. Freya Sampson has a wonderful talent for creating characters that feel vividly true to life, and it really shines here. This warm and moving novel is layered with mystery, emotion, and heart as it explores its powerful themes of guilt and community. I just know readers are going to love it as much as I do."—India Hilton, author of The Secret Service of Tea and Treason
 
"A fun, heartwarming community caper, this book reminds us that while we can't choose our neighbors, we often end up with exactly the ones we need—even if they infuriate us at first."—Mikki Brammer, author of The Collected Regrets of Clover
 
"A sweet, uplifting story that explores how a group of strangers can ultimately become a community—and perhaps solve a mystery or two along the way!"—Nikki Erlick, author of The Measure
 
"Freya Sampson never fails to make me cry in the best possible way, and Nosy Neighbors is no exception. While the characters try to solve a mystery in their quest to save their beloved home, it becomes apparent that the real mystery is how they ended up in that situation in the first place--a mystery Sampson slowly unravels with the utmost care for their humanity and abundant charm. It's impossible not to root for Dorothy, Kat, and even Shelley House itself."—Tori Anne Martin, USA Today bestselling author of This Spells Disaster
 
"Touching and thrilling all at once. I loved this clever mystery about friendship, loss and the power of community. Highly recommended!"—Tess Amy, author of The Confidence Games