Addicted: A Novel (Paperback)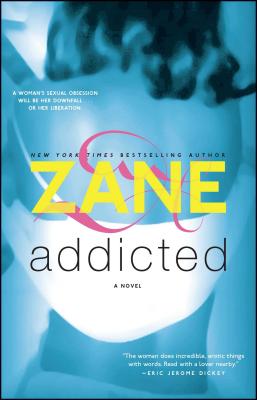 Email or call for price.
Out of Print - Not Available
Description
---
Before there was E.L. James's 50 Shades of Grey, there was Zane's Addicted. Once described as "the hottest paperback in the country" by the New York Times and now a major motion picture distributed by Lionsgate, this wildly popular novel by the Queen of Erotica follows one woman's life as it spirals out of control when her three extramarital affairs lead her down a dark and twisted path.

For successful African-American businesswoman Zoe Reynard, finding the pleasure she wants, the way she wants it, is not worth the risk of losing everything she has: marriage to the man she has loved since childhood, a thriving company, and three wonderful children. But Zoe feels helpless in the grip of an overpowering addiction…to sex.

Finding a compassionate woman therapist to help her, Zoe finally summons the courage to tell her torrid story, a tale of guilt and desire as shocking as it is compelling. From the sensitive artist with whom she spends stolen hours on rumpled sheets to the rough and violent man who draws her toward destruction, Zoe is a woman desperately searching for fulfillment—and something darker, deeper, and perhaps deadly. As her life spins out of control and her sexual escapades carry her toward a dangerous choice, Zoe is racing against time to uncover the source of her "fatal attraction"—as chilling secrets tumble forth from the recesses of a woman's mind, and perilous temptations lead toward a climax that can threaten her sanity, her marriage…and her life.
About the Author
---
Zane is the New York Times bestselling author of Afterburn, The Heat Seekers, Dear G-Spot, Gettin' Buck Wild, The Hot Box, Total Eclipse of the Heart, Nervous, Skyscraper, Love is Never Painless, Shame on It All, and The Sisters of APF; the ebook short stories "I'll be Home for Christmas" and "Everything Fades Away"; and editor for the Flava anthology series, including Z-Rated and Busy Bodies. Her TV series, Zane's Sex Chronicles, and The Jump Off are featured on Cinemax, and her bestselling novel Addicted is a major motion picture with Lionsgate Films. She is the publisher of Strebor Books, an imprint of Atria Books/Simon & Schuster. Visit her online at EroticaNoir.com.
Praise For…
---
Margaret Johnson-Hodge Author of Butterscotch Blues Snatched me up from the first page and didn't let me go until the end. A great read!

Franklin White Author of Fed Up with the Fanny and Cup of Love Hot! Sensational! This is one you won't be able to put down!

Karen E. Quinones Miller Author of Satin Doll Erotic and well-written, Addicted sizzles and satisfies. Zane has managed to pen a novel that expertly portrays both romantic and earthly love and does more than simple justice to each.