The Sisters of APF: The Indoctrination of Soror Ride Dick (Paperback)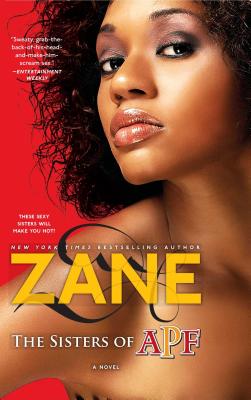 $16.99

Usually Ships in 1-5 Days
Description
---
The Sisters of APF is Zane's first book based on one of her most popular short story subjects, the sexy escapades of a sorority like no other.

Many readers have written to Zane and asked to join the sorority or to launch a new chapter in their region. APF is fantasy, but the enthusiasm of Zane's fans is real. So now, with The Sisters of APF, she's offering readers what they want, a book-length story chronicling the adventures—and recruitment process—of the fearlessly sexy women of APF.​

APF stands for Alpha Phi F***em, a sorority dedicated to sexual freedom and the fulfillment of its members. Mary Ann is the daughter of a chicken farmer from South Dakota. She has never been more than fifty miles from home and has led a sheltered life. By the time she goes off to college in Washington, D.C., she has been intimate with only one man—her high school sweetheart. The resident manager of Mary Ann's dormitory, Patricia, befriends the country bumpkin. She finds Mary Ann amusing, but also senses something intriguing about her, hidden beneath the surface. After Mary Ann becomes smitten with Trevor, the campus playboy, Patricia is determined to show Mary Ann how to outdo the players and heartbreakers. She indoctrinates Mary Ann into the ranks of the sexiest secret society ever: the sisters of APF.
About the Author
---
Zane is the New York Times bestselling author of Afterburn, The Heat Seekers, Dear G-Spot, Gettin' Buck Wild, The Hot Box, Total Eclipse of the Heart, Nervous, Skyscraper, Love is Never Painless, Shame on It All, and The Sisters of APF; the ebook short stories "I'll be Home for Christmas" and "Everything Fades Away"; and editor for the Flava anthology series, including Z-Rated and Busy Bodies. Her TV series, Zane's Sex Chronicles, and The Jump Off are featured on Cinemax, and her bestselling novel Addicted is a major motion picture with Lionsgate Films. She is the publisher of Strebor Books, an imprint of Atria Books/Simon & Schuster. Visit her online at EroticaNoir.com.