Shame on It All: A Novel (Paperback)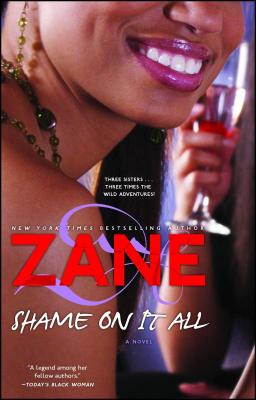 $17.99

Usually Ships in 1-5 Days
Description
---
Shame on It All is an unforgettable showcase for Zane's talent for insight, comedy, and wild high jinks.

For anyone who has ever observed the behavior of a close friend or family member and suppressed the urge to scream "Shame on you!" out loud, Shame on It All is the novel for you.

Harmony, Bryce, and Lucinda (a.k.a. Lucky) Whitfield are sisters in every sense of the word. They argue and get on each other's nerves, but when it comes down to the wire, they are extremely protective of one another. Shame on It All follows their adventures, their friendships, their love lives, and their outlooks on life in today's society. Jam-packed with unpredictable, unbelievable, and just downright crazy situations with a few surprising twists thrown in for good measure, Shame on It All is as wild as they come.
About the Author
---
Zane is the New York Times bestselling author of Afterburn, The Heat Seekers, Dear G-Spot, Gettin' Buck Wild, The Hot Box, Total Eclipse of the Heart, Nervous, Skyscraper, Love is Never Painless, Shame on It All, and The Sisters of APF; the ebook short stories "I'll be Home for Christmas" and "Everything Fades Away"; and editor for the Flava anthology series, including Z-Rated and Busy Bodies. Her TV series, Zane's Sex Chronicles, and The Jump Off are featured on Cinemax, and her bestselling novel Addicted is a major motion picture with Lionsgate Films. She is the publisher of Strebor Books, an imprint of Atria Books/Simon & Schuster. Visit her online at EroticaNoir.com.
Praise For…
---
Robert Fleming Author of After Hours: A Collection of Erotic Writing by Black Men At a time when much of African American fiction has fallen into formulas and mediocrity, Zane has lifted the bar...with this insightful, often hilarious work.