The Hot Box: A Novel (Paperback)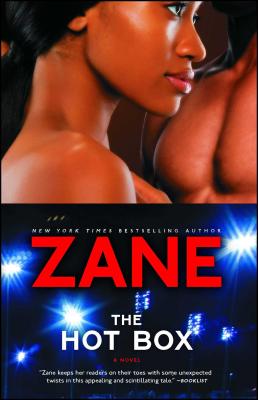 $16.99

Usually Ships in 1-5 Days
Description
---
Zane spoils her fans in this scintillating New York Times bestseller about about two women, four men, two love triangles and the drama that unfolds.

"Hot Box" is a baseball drill that can be played with three or more players and two to four bases. The players take turns being fielders and runners, ultimately trying to tag the rest of the players out. In The Hot Box, best friends Milena and Lydia are playing the game with Jacour, Yosef, Glenn, and Phil. The only problem: the men do not realize that they are merely players in their game.​

Milena lives a sheltered and dismal existence, and she hasn't allowed a man to touch her body in eight years—until now. Lydia dreams of getting away from small-town America, but until she can make that happen, she is prepared to do whatever it takes to continue to have her bills paid on time. Good sex always does the trick.

Two women. Four men. Two love triangles. Reading has never been this hot because, once again, Zane is taking you outside the box.
About the Author
---
Zane is the New York Times bestselling author of Afterburn, The Heat Seekers, Dear G-Spot, Gettin' Buck Wild, The Hot Box, Total Eclipse of the Heart, Nervous, Skyscraper, Love is Never Painless, Shame on It All, and The Sisters of APF; the ebook short stories "I'll be Home for Christmas" and "Everything Fades Away"; and editor for the Flava anthology series, including Z-Rated and Busy Bodies. Her TV series, Zane's Sex Chronicles, and The Jump Off are featured on Cinemax, and her bestselling novel Addicted is a major motion picture with Lionsgate Films. She is the publisher of Strebor Books, an imprint of Atria Books/Simon & Schuster. Visit her online at EroticaNoir.com.
Praise For…
---
"Arguably not since the emergence of Nancy Friday has American letters produced a purveyor of erotica with such mass-market appeal." —The New York Times


"Zane's writing warms me, heats me up, satisfies me with a passion." —Eric Jerome Dickey



"A legend among her fellow authors." --Today's Black Woman



"Sweaty, grab-the-back-of-his-head-and-make-him-scream-sex." --Entertainment Weekly



THE HOT BOX is an emotional thrill-ride that will send you hurtling from tears and raucous laughter to fiery titillation. In a league of her own, Zane fuses smoldering sex, snappy dialogue, and social consciousness into a well-crafted tale that is written in her sassy signature style. Zaniacs be warned…you will not be able to put this hot book down.
--Allison Hobbs, Bestselling Author of Stealing Candy