Lailah's Lunchbox: A Ramadan Story (Hardcover)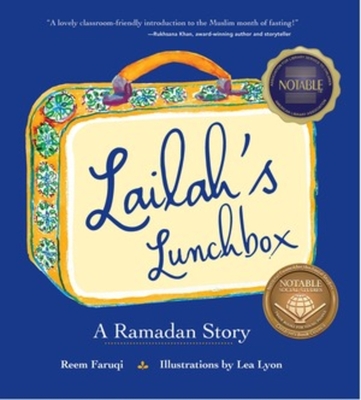 $16.95

Usually Ships in 1-5 Days
Description
---
*2019 Daybreak Children's Picture Book Award -- Recognizing Muslim Women's Contributions to Literature*
*Notable Social Studies Trade Book For Young People 2016, a cooperative Project of the National Council for the Social Studies (NCSS) and the Children's Book Council*

*Featured Book of the Month, Anti-Defamation League*
*American Library Association Notable Book for Children 2016*
*Skipping Stones Honor 2016*
*International Literacy Association Choices Reading List*
 

Lailah is in a new school in a new country, thousands of miles from her old home, and missing her old friends. When Ramadan begins, she is excited that she is finally old enough to participate in the fasting but worried that her classmates won't understand why she doesn't join them in the lunchroom.
Lailah solves her problem with help from the school librarian and her teacher and in doing so learns that she can make new friends who respect her beliefs. This gentle, moving story from first-time author Reem Faruqi comes to life in Lea Lyon's vibrant illustrations. Lyon uses decorative arabesque borders on intermittent spreads to contrast the ordered patterns of Islamic observances with the unbounded rhythms of American school days.
Fountas & Pinnell Level N
About the Author
---
Reem Faruqi based this book on her own experiences as a young Muslim girl immigrating to the United States. She lives in Atlanta, Georgia.

Lea Lyon is an award-winning children's book illustrator, painting teacher, and portrait artist who has made a childhood dream come true. Lea loved to draw and paint as a child, and she wanted to be a children's book illustrator.  She ended up raising a family, going back to school for an MBA, and working in the corporate world, but she kept painting. Now, at long last, Lea is a children's book illustrator with five published picture books: Say Something, Playing War, Keep Your Ear on the Ball (all with Tilbury), The Miracle Jar and Operation Marriage. She lives in Richmond, California.
Praise For…
---
If
you're looking for an introduction to Ramadan for young readers (ages 5 to 8),
consider this picture book. On the first year she is able to participate in
Ramadan, Lailah finds herself in a new country, far from her native Abu Dhabi. She
is excited to fast, but nervous that her classmates will not understand. With
the help of a teacher and a librarian, she learns how she can explain Ramadan
to her fellow students and make friends who are respectful of her culture.
— Concepción de León - New York Times

A lovely
classroom-friendly introduction to the Muslim month of fasting!
— Ruhksana Khan, award-winning author and storyteller