A Useless Man: Selected Stories (Paperback)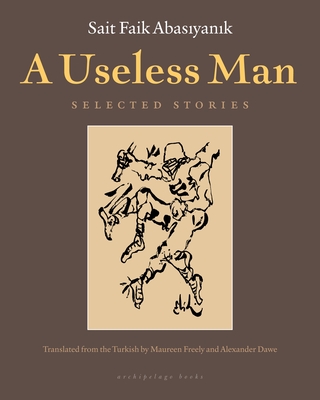 $18.00
Email or call for price
Description
---
With all the wit and brilliance of Chekhov, a distinctive collection of lyrical stories from Sait Faik Abasıyanık, "Turkey's greatest short story writer" (The Guardian)
 
Sait Faik Abasıyanık's fiction traces the interior lives of strangers in his native Istanbul: ancient coffeehouse proprietors, priests, dream-addled fishermen, poets of the Princes' Isles, lovers and wandering minstrels of another time. The stories in A Useless Man are shaped by Sait Faik's political autobiography – his resistance to social convention, the relentless pace of westernization, and the ethnic cleansing of his city – as he conjures the varied textures of life in Istanbul and its surrounding islands. The calm surface of these stories might seem to signal deference to the new Republic's restrictions on language and culture, but Abasıyanık's prose is crafted deceptively, with dark, subversive undercurrents. "Reading these stories by Sait Faik feels like finding the secret doors inside of poems," Rivka Galchen wrote. Beautifully translated by Maureen Freely and Alexander Dawe, A Useless Man is the most comprehensive collection of Sait Faik's stories in English to date.
About the Author
---
Sait Faik's career marked a pivotal moment in Turkish culture in the 1930s and 40s when the secular, post-Ottoman sensibility placed new demands on the writing of literature. Born in Adapazari in 1906, Sait Faik is regarded by Turkish critics and readers as their finest short story writer – a Turkish Chekhov.
Alex Dawe has translated Tanpinar's The Time Regulation Institute, for which he won a PEN/Heim Translation Fund Grant.
 
Maureen Freely is a writer, translator, senior lecturer at Warwick University, and the former president of English PEN. The translator of books by Orhan Pamuk and Fethiye Cetin, she actively champions free expression. She has been a regular contributor to The Guardian, The Observer, The Independent, and The Sunday Times for two decades. Her translation of Sevgi Soysal's Dawn is forthcoming from Archipelago.
Praise For…
---
Brimming with life and intelligence…. Sait Faik is a masterful storyteller and a passionate flaneur. He has the keenest eye and the softest heart for quirkiness, loneliness and love. It feels like nothing can surprise him and yet his writing is utterly riveting and full of surprises. 
— Elif Shafak
 
Reading these stories by Sait Faik feels like finding the secret doors inside of poems. Little moments–here one about milk, there one about death–open out into corridors of narrative, leading to effects and endings that are consistently both gentle and cutting, simultaneously honest and surprising. A distinctive, humane voice worthy of our serious attention.
— Rivka Galchen
 
Turkey's greatest short-story writer.
— The Guardian
 
These stories unfold like secrets or hallowed gossip passed between friends and neighbors. Each one's telling—intimate and mysterious, earthy and luminous—is propelled universal by a striking glimpse of the human heart. Set in post-Ottoman Istanbul, Sait Faik's characters span a rich cultural array, including Turkish fishmen, Greek Orthodox priests, factory girls, thieves, simit sellers and all manner of lovers. Though these stories take us to a specific place and time, Sait Faik's unflinching eye lands us precisely in our own backyard.

— Anne Germanacos

"Sait Faik's best stories combine...innocence with a profound intelligence, showing that people also bring sadness, disappointment, rivalry, frustration and confusion. He should certainly be better known among English readers and this volume is a good place to start... His work is full of humanistic portrayals of laborers, fishermen, children, tradesmen, the unemployed, the poor...one of the best loved writers in Turkey." — William Armstrong, Hürriyet Daily News
"Part of the charm of Sait Faik Abasiyanik, who wrote almost 200 short stories in two decades before his premature death in 1954, is the way he floated above the fray of his turbulent times. This new selection of tales is welcome.... His stories bear multiple readings... they are elliptical, fragmentary, defined mostly by what is left unsaid; they never outstay their welcome.... 'The Silk Handkerchief' [is] a poignant masterpiece of concision." — The Times Literary Supplement

"It's heartbreaking and tender.... Masterly storytelling, beautifully translated." — The Irish Times

"[S]uperbly translated. . . evocative and nostalgic without ever being saccharine. . . Like quality chocolates, each story is worth pausing over to savor the nuances, wondering about the hints and where they lead. . . Elliptical and unexpected, sometimes lyrical, sometimes earthy, using elementary language and a stark, Chekhovian simplicity, these loving tributes to the unnoticed loners on the margins of life reveal the world through Sait Faik's eyes in all its brutality and loneliness and beauty." --Nick DiMartino, University Book Store, in Shelf Awareness