Lickin' License: From Lust to Love to Deception and Death (Paperback)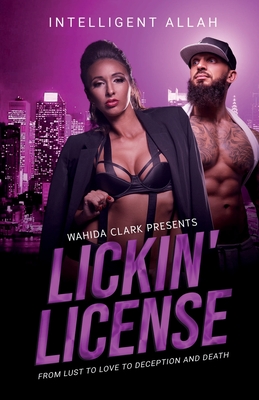 $25.95

Usually Ships in 1-5 Days
Description
---
Candy's Shop is the hottest beauty salon in Harlem. But the romances happening inside of it are even hotter
Candy has the body of a goddess, the most expensive cars and exclusive fashion that money can buy, Her business is the envy of every woman she knows-and the ones she doesn't, too. It should be enough, but Candy wants more than money, and more than lust.
She wants love.
When Rich one of Harlem's most powerful drug dealers becomes a fixture in Candy's shop, he ignites a fire inside her salon that might just burn it all down-because he and Candy have their eye on the same woman, a beautiful bohemian stylist named Vanessa. And just outside of their three-way battle, the other stylists of Candy's Shop are taking sides and setting their sights on their own prey. This hurricane of sex lust and love might just destroy everything Candy's worked so hard to build. It might even take her life.
When jealousy, anger, and lust combine, it's more flammable than a match and a can of hairspray. Will Candy be able to win over the lesbian lover of her dreams? Will Vanessa succumb to Rich's slick-talking ways? And what happens if all three of them try to find their own Harlem happily-ever-after together?
Fans of lesbian romance, LGBTQ+ romance, and menage romances hot enough to melt the pages will love this. If you crave drama, romance and lovers who have to fight for their happy-ever-afters, you won't be able to put this one down
One-Click to start reading Lickin' License today
About the Author
---
Intelligent Allah is a Brooklyn-born bestselling author and editor known by family and friends as Intell. He also writes under the penname Vance Burrows in honor of his deceased friend Boo (Varence Burrows). Intelligent was a poet and aspiring rapper from Brooklyn until he was incarcerated in 1994. While serving 18 1/2 years in prison, Intelligent completed various writing courses and served on several editorial boards of prison newsletters. He became a published writer and editor. His novel Lickin' License was a #1 Don Diva bestseller and he was nominated by the African American Literature Awards as 2012 Erotica Author of the Year for Lickin' License II. Intelligent is a contributing editor of over a dozen fiction and nonfiction books, including Wahida Clark's New York Times bestsellers Honor Thy Thug and Justify My Thug. His editorials, essays and articles have been published online, in magazine, newspaper and in books. He has also been contracted for producing advertising copy, movie treatments and other writings. Intelligent is also a graphic artist who has designed flyers and logos for companies, nonprofits and government agencies like IBI Productions, Rehabilitation Through The Arts and the Georgia State Department of Juvenile Justice respectively. Intell currently resides in Atlanta, Georgia.