Monster ABC (Board Books)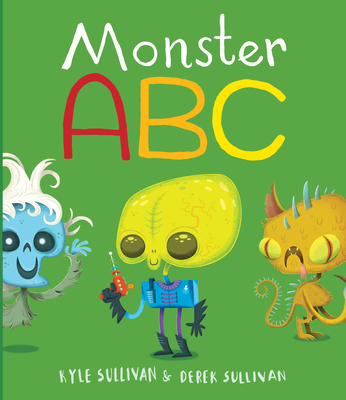 $13.95

Usually Ships in 1-5 Days
Description
---
Whimsical illustrations combine with cheeky verses in this quirky, hilarious alphabet book that introduces young readers to monsters from all over the world.Monster ABC covers the full monster spectrum: Some are well-known (e.g., Alien, Ghost, Zombie), some are regional favorites (e.g., Jersey Devil, Sasquatch) and some come with a passport (e.g., Banshee, Krampus, Quetzalcoatl). These gorgeously rendered monsters and silly verses prove that monsters don't have to be scary--they can be as friendly and silly as we want them to be.
Visit hazydellpress.com for free education guides and activities perfect for schools, libraries, homeschool and stay-at-home learning.
"From 'A is for Alien' to 'Z is for Zombie, ' Monster ABC's rhyming text gives simple introductions to the monsters of the alphabet; silly illustrations make even the scariest of monsters near impossible to find frightening." --Shelf Awareness
"Innovative, modern and incredibly fun. Rhyming board books are prevalent, but rollicking, fun ones are rarer. . . . Incredibly imaginative and funny artwork" --Creators Syndicate
" T]wins Derek and Kyle Sullivan have a winner of a board book on their hands with Monster ABC." --PDX Parent Magazine
"It's a refreshing change from saccharine kids' stories...This children's board book is quirky fun from Alien to Zombie." --The Seattle Times
"Monster ABC is our favorite new family book this year. Not only is the artwork amazing, but the rhymes for each letter make this a great, infinitely re-readable alphabet book." --GeekDad.com
About the Author
---
Kyle Sullivan is a writer based in Portland, Oregon. His titles for children include Hobgoblin and the Seven Stinkers of Rancidia, Zombie, Or Not to Be, Monster ABC, Hush Now, Banshee! and Goodnight Krampus.Derek Sullivan is a Seattle-based illustrator. He has illustrated many books for children including Party Croc!: A Folktale from Zimbabwe for Albert Whitman & Company; and Hobgoblin and the Seven Stinkers of Rancidia, The Cyclops Witch and the Heebie-Jeebies, Monster ABC, Goodnight Krampus, and Get Dressed, Sasquatch! for Hazy Dell Press.