Daughter of the Pirate King (Paperback)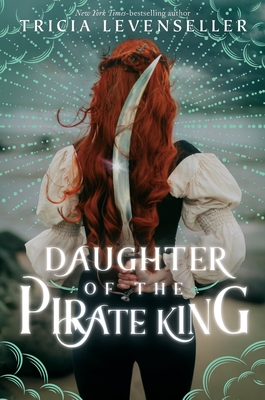 $12.99

Usually Ships in 1-5 Days
Description
---
There will be plenty of time for me to beat him soundly once I've gotten what I came for.

Sent on a mission to retrieve an ancient hidden map—the key to a legendary treasure trove—seventeen-year-old pirate captain Alosa deliberately allows herself to be captured by her enemies, giving her the perfect opportunity to search their ship.

More than a match for the ruthless pirate crew, Alosa has only one thing standing between her and the map: her captor, the unexpectedly clever and unfairly attractive first mate Riden. But not to worry, for Alosa has a few tricks up her sleeve, and no lone pirate can stop the Daughter of the Pirate King.

In Daughter of the Pirate King, debut author Tricia Levenseller blends action, adventure, romance, and a little bit of magic into a thrilling pirate tale.
About the Author
---
Tricia Levenseller, New York Times-bestselling author of several YA fantasy novels, including Daughter of the Pirate King and The Shadows Between Us, grew up in Oregon, where she spent her childhood climbing trees and playing make believe. She now lives in Utah with her bossy dog, Rosy, where she writes full time. When she's not writing or reading, Tricia enjoys putting together jigsaw puzzles, playing Overwatch and Sea of Thieves on her Xbox, and finding tasty restaurants to frequent.
Praise For…
---
"Readers should rejoice, because we now have a lady Jack Sparrow on our hands! Daughter of the Pirate King kidnapped my interest from the first chapter and never let it go! It's a superior debut with a deeply entangled romance, a fearsome heroine not to be trifled with, a clever hero that you seriously want to trifle with, and a plot twist that makes a rollercoaster seem stable. With a cunning plot, robust writing, and complicated characters, any reader will enjoy being manipulated in Levenseller's capable hands. Definitely for fans of Pirates of the Caribbean, fierce heroines, slow-burning romances, and adventures that can turn sour in the space of a gasp. Not for fans of complacent heroines, soothing plots, or those who don't speak sarcasm." -- Anna Banks, author of the New York Times Bestseller Of Triton

" Levenseller has created a formidable female character who can take care of herself as she makes some hard decisions. Hand to skilled readers seeking true adventure with swashbuckling, sword fighting, and a great problem-solving heroine." —School Library Journal

"Levenseller makes an impressive debut with this funny, fast-paced, and romance-dashed nautical fantasy, set in an alternate world of pirates, sirens, and myriad islands....This one's not to be missed." — Publishers Weekly, starred review

"Tricia Levenseller's vivacious debut novel, the first in a duology, boasts stormy seas, sexy pirates, swordplay and a heroine who conquers all three with aplomb.... A rip-roaring high seas escapade with a tinge of fantasy, Daughter of the Pirate King will engage and enthrall its teen audience." — Shelf Awareness