The Eye of the World: The Graphic Novel, Volume Six (Wheel of Time: The Graphic Novel #6) (Paperback)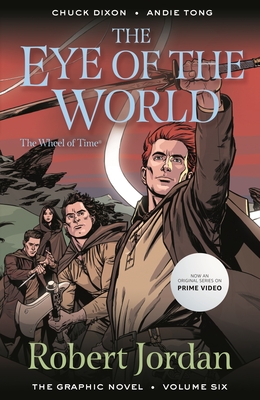 $21.99

Usually Ships in 1-5 Days
Description
---
Now an original series starring Rosamund Pike as Moiraine!

Created with the cooperation of the Jordan estate, adapted by well-known comics writer Chuck Dixon and illustrated by the talented Chase Conley, The Eye of the World: The Graphic Novel has been hailed as an exciting interpretation of Robert Jordan's classic fantasy novel. This final volume features brilliant interior art by Francis Nuguit.

The Eye of the World: the Graphic Novel, Volume Six, Rand al'Thor and his companions—his old friends from Emond's Field; the brave warrior Lan Mandragoran; and Moiraine, the mysterious and powerful Aes Sedai—have at last been reunited. Their journey in search of the Eye of the World nears its climax as they dare the otherworldly Ways, guided by an Ogier, Loial, and narrowly escape the menace of the soul-stealing Machin Shin. When the group reaches the realm of the Green Man, they believe themselves safe. But two of the Forsaken are waiting for them, ready to attack and to guide their dark lord, Ba'alzamon, to the ones he has been seeking!

When the three young men left Emond's Field, they were untried blades. Their long journey has stolen much of their innocence and made them seasoned warriors, given them powers and gifts they did not seek and are still learning how to use. But not until the final moments are they sure which of them the Dark One intends to claim…and whether that one is strong enough to fight back and survive.
About the Author
---
ROBERT JORDAN (1948-2007) is best known for his internationally bestselling epic fantasy series The Wheel of Time®, which has sold over 100 million copies worldwide and is currently being adapted for the screen. A native of Charleston, Jordan graduated from The Citadel, the Military College of South Carolina, with a degree in physics. He served two tours in Vietnam with the U.S. Army and received multiple decorations for his service.
Chuck Dixon is a comic book writer best known for his long runs on several Batman titles in the 1990's for DC Comics. Throughout his prolific career, Dixon has written for Evangeline (Comico Comics), The Savage Sword of Conan, The Punisher War Journal (Marvel Comics), Robin, Nightwing, Detective Comics (DC Comics), and Simpsons Comics (Bongo Comics). Dixon worked closely with Robert Jordan on the graphic adaptation of New Spring and with Jordan's estate on The Eye of the World graphic novel.
 
ANDIE TONG has worked on
Spectacular Spider-Man
,
Batman Strikes
,
Teenage Mutant Ninja Turtles
, and
Noble Causes
. He has illustrated many comics and graphic novels, including
The Eye of the World: The Graphic Novel, Volume Two
.