American Oligarchs: The Kushners, the Trumps, and the Marriage of Money and Power (Hardcover)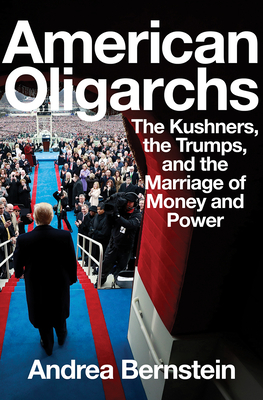 $30.00

Usually Ships in 1-5 Days
Description
---
A New York Times Bestseller



A multigenerational saga of two families, who rose from immigrant roots to the pinnacle of wealth and power, that tracks the unraveling of American democracy.
In American Oligarchs, award-winning investigative journalist Andrea Bernstein tells the story of the Trump and Kushner families like never before. Their journey to the White House is a story of survival and loss, crime and betrayal, that stretches from the Klondike Gold Rush, through Nazi-occupied Poland and across the American Century, to our new gilded age. In building and maintaining their dynastic wealth, these families came to embody the rising nationalism and inequality that has pushed the United States to the brink of oligarchy.
Building on her landmark reporting for the acclaimed podcast Trump, Inc. and The New Yorker, Bernstein's painstaking detective work brings to light new information about the families' arrival as immigrants to America, their paths to success, and the business and personal lives of the president and his closest family members.
Bernstein traces how the two families ruthlessly harnessed New York and New Jersey machine politics to gain valuable tax breaks and grew rich on federal programs that bolstered the middle class. She shows how the Trump Organization, denied credit by American banks, turned to shady international capital. She reveals astonishing new details about Charles Kushner's attempts to ensnare his brother-in-law with a prostitute and explores how Jared Kushner and his father used a venerable New York newspaper to bolster their business empire.
Drawing on more than two hundred interviews and more than one hundred thousand pages of documents, many previously unseen or long forgotten, Bernstein shows how the Trumps and the Kushners repeatedly broke rules and then leveraged secrecy, intimidation, and prosecutorial and judicial power to avoid legal consequences.
The result is a compelling narrative that details how the Trump and Kushner dynasties encouraged and profited from a system of corruption, dark money, and influence trading, and that reveals the historical turning points and decisions—on taxation, regulation, white-collar crime, and campaign finance laws—that have brought us to where we are today.
About the Author
---
Andrea Bernstein is the Peabody Award–winning cohost of the acclaimed WNYC/ProPublica podcast Trump, Inc., which won the prestigious 2019 Alfred I. duPont–Columbia University award. In addition to broadcast appearances on outlets including PBS NewsHour, CNN, and Fresh Air, her work has appeared in The New Yorker, the New York Times, the Washington Post, New York, and on NPR.
Praise For…
---
Anyone concerned about American democracy should read Andrea Bernstein's devastating exposé of the Trump and Kushner families. With meticulous precision, she documents the pernicious effects of dynastic wealth and power, now threatening to turn the highest rungs of the US government into a corrupt oligarchy.
— Jane Mayer, The New Yorker staff writer and New York Times best-selling author of Dark Money

A sweeping story of two American families, which shows that both the Trumps and the Kushners made their fortunes—often with government money. How did these 'self-made men' really get made? With donations, favors, intimidation and other people's money. Nobody really beats city hall. The winners buy it, as Bernstein shows.
— David Fahrenthold, Pulitzer Prize–winning journalist at the Washington Post

Riveting! Andrea Bernstein deftly tracks the history of the Trump and Kushner families from their roots through their immigration to the United States and their progression up through the socioeconomic ranks. American Oligarchs is comprehensive, brilliantly written, filled with detail and suspense—it reads like a financial thriller.

— A. M. Homes, prize-winning author of Days of Awe and This Book Will Save Your Life

Andrea Bernstein masterfully chronicles the sordid narrative that is the American reality. What elevates her book isn't just her gobsmacking tale of these two families; it's that she illuminates the contours of the system that brought us their corrupt reign.
— Franklin Foer, staff writer at the Atlantic and author of World Without Mind

Bernstein…offers a precise and damning dissection of the systems of power that have gotten us where we are now…[American Oligarchs] is a work of great reporting.

— Tayla Zax - Forward

A rich and highly readable compendium…Bernstein is an intrepid reporter.
— William Cohan - New York Times Book Review

By building American Oligarchs around the Kushner and Trump family narratives, Bernstein offers readers a fresh perspective.... Readers who follow the news more casually will also find the epic family tales a compelling way to understand the myriad deals and ambitions that define the Kushners and Trumps.

— David Kocieniewski - Bloomberg.com

A meticulous deep dive.
— Lloyd Green - Guardian
Coverage from NPR