Mastering the Art of French Murder: A Charming New Parisian Historical Mystery (An American In Paris Mystery #1) (Hardcover)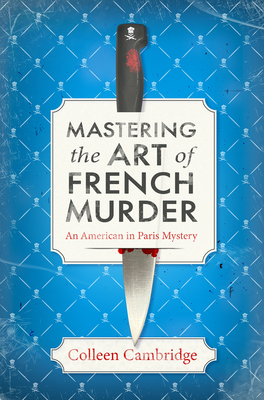 $27.00

Usually Ships in 1-5 Days
Other Books in Series
This is book number 1 in the An American In Paris Mystery series.
May 2023 Indie Next List
---
"Murder most foul in Paris, the city of Julia Child and her new neighbor, Tabitha Knight. While Tabitha learns to cook from Julia, she finds herself in the middle of a murder, and the weapon is one of Julia's prized knives!"
— Tina Greene-Bevington, Bay Books (MI), Suttons Bay, MI
Description
---
Fans of Jacqueline Winspear, Marie Benedict, Nita Prose, and of course, Julia Child, will adore this magnifique new mystery set in Paris and starring Julia Child's (fictional) best friend, confidante, and fellow American. From the acclaimed author of Murder at Mallowan Hall, this delightful new book provides a fresh perspective on the iconic chef's years in post-WWII Paris.

"Enchanting…Cambridge captures Child's distinct voice and energy so perfectly. Expect to leave this vacation hoping for a return trip." –Publishers Weekly

As Paris rediscovers its joie de vivre, Tabitha Knight, recently arrived from Detroit for an extended stay with her French grandfather, is on her own journey of discovery. Paris isn't just the City of Light; it's the city of history, romance, stunning architecture . . . and food. Thanks to her neighbor and friend Julia Child, another ex-pat who's fallen head over heels for Paris, Tabitha is learning how to cook for her Grandpère and Oncle Rafe.

Between tutoring Americans in French, visiting the market, and eagerly sampling the results of Julia's studies at Le Cordon Bleu cooking school, Tabitha's sojourn is proving thoroughly delightful. That is, until the cold December day they return to Julia's building and learn that a body has been found in the cellar. Tabitha recognizes the victim as a woman she'd met only the night before, at a party given by Julia's sister, Dort. The murder weapon found nearby is recognizable too—a knife from Julia's kitchen.

Tabitha is eager to help the investigation, but is shocked when Inspector Merveille reveals that a note, in Tabitha's handwriting, was found in the dead woman's pocket. Is this murder a case of international intrigue, or something far more personal? From the shadows of the Tour Eiffel at midnight, to the tiny third-floor Child kitchen, to the grungy streets of Montmartre, Tabitha navigates through the city hoping to find the real killer before she or one of her friends ends up in prison . . . or worse.

"Part historical fiction, part mystery, Mastering the Art of French Murder is totally delectable entertainment." –The Washington Post

"Certain to appeal to a broad readership, especially fans of Jacqueline Winspear, Rhys Bowen, and Cambridge's own Phyllida Bright series." –First Clue, STARRED REVIEW
About the Author
---
Colleen Cambridge is the New York Times and USA Today bestselling author of the American in Paris Mysteries and the Phyllida Bright Mysteries, the first of which, Murder at Mallowan Hall, was an Indie Next Pick and Agatha Award finalist. An accomplished historian whose meticulously researched novels appeal to fans of historical fiction and mysteries alike, she also writes under the pennames C.M. Gleason and Colleen Gleason. She lives in the Midwest and can be found online at ColleenCambridge.com.
Praise For…
---
Praise for Colleen Cambridge
 

"It's Child's ebullient personality that is the heart of the book. Part historical fiction, part mystery, Mastering the Art of French Murder is totally delectable entertainment for fans of lighthearted detective fiction." —The Washington Post

"Enchanting…Cambridge captures Child's distinct voice and energy so perfectly. Expect to leave this vacation hoping for a return trip." —Publishers Weekly on Mastering the Art of French Murder

"A first-rate traditional mystery with strong characterization that is certain to appeal to a broad readership, especially fans of Jacqueline Winspear, Rhys Bowen, and Cambridge's own Phyllida Bright series." —First Clue, STARRED REVIEW for Mastering the Art of French Murder

"Colleen Cambridge has a knack for creating lively, atmospheric historical mysteries featuring fictional heroines on the periphery of the lives of actual historical figures. Mastering the Art of French Murder is a lively, entertaining mystery in the classic cozy style. Highly recommended! " —Carol Schneck Varner, Schuler Books (Grand Rapids, MI)

"Charmingly told, with a full upstairs-downstairs cast of guests and servants…Fans of Agatha Christie, historical fiction and fierce female leads are all sure to enjoy Murder at Mallowan Hall." —Shelf Awareness
 
"It's obvious Cambridge had a blast writing the book, set in 1930s Devonshire, and her fun is infectious. Phyllida is a confident first-time detective, modeling herself on her hero, Christie's Hercule Poirot, who outshines all suitors who have come her way. Phyllida's smarts and assurance don't save her from making mistakes, some of which delay solving the case. Paced at a gallop, it's an entertaining read. Recommended." —Historical Novel Society on Murder at Mallowan Hall
 
"Two words describe this book: absolutely delicious…Murder at Mallowan Hall is a near-perfect traditional mystery." —First Clue
 
"[A] solid series launch from Cambridge…Readers will want to see more of the clever Phyllida." —Publishers Weekly on Murder at Mallowan Hall
 
"Colleen Cambridge has done her homework on English society and provides us with a clear picture of her characters, where they live, and how they act. She does well at capturing the era with all the right language and dialects. It's a good cozy to read with a cup of tea on the patio." —New York Journal of Books on Murder at Mallowan Hall
 
"A delicious combination of Downton Abbey and a meta-play on a Christie novel (obviously, The Body in the Library). The Downton Abbey bit is Cambridge's attention to 1920's domestic detail and the way Mrs. Bright runs the household...Agatha Christie the character plays a very peripheral part in the proceedings, but Agatha Christie the writer haunts every page of this delightful book that both pays homage to the Queen of Crime, but also embroiders on her work with a fresh character and a fresh look at a part of her life. This is a wonderful series debut." —Mystery Scene on Murder at Mallowan Hall

"The premise of a crime-solving housekeeper to the one and only Agatha Christie is full of promise and portent.  It's such a pleasure when the first book in a new mystery series is well-crafted and I look forward to reading more of Phyllida Bright's adventures in detection." —Criminal Element on Murder at Mallowan Hall

"What if Agatha Christie's housekeeper was the best detective of all? In this delightful book, she is! You will love watching Phyllida spot the clues the authorities miss when a dead body shows up in Agatha's library. An outstanding start to what promises to be a winning new series." —Victoria Thompson, USA Today Bestselling Author of Murder on Wall Street on Murder at Mallowan Hall
 
"Cambridge pens a thoroughly intriguing mystery, told in a unique manner from the perspective of the staff belowstairs rather than the upper class above, in this splendid first installment in a new series. Fans of Tessa Arlen and Jennifer Ashley will be delighted." —Anna Lee Huber, bestselling author of the Verity Kent Mysteries on Murder at Mallowan Hall

"Readers of traditional mysteries will love Murder at Mallowan Hall. Phyllida Bright, Agatha Christie's housekeeper, is a superb detective who overcomes the interruptions of her typical workday to best the local investigators in solving a murder in Ms. Christie's library." —Denise Phillips, Gathering Volumes (Perrysburg, OH)
 
"If you stay up to finish Agatha Christie books or watch the Miss Marple or Poirot series, you will love this new series based in Miss Christie's world. When a mystery man is murdered in Agatha Christie's personal library, her head housekeeper, Phyllida Bright, is determined to solve the case and return the house to normal. This is the coziest of mysteries and a lovely tribute to the queen of mysteries herself." —Tina Green-Bevington, Bay Books (Suttons Bay, MI) on Murder at Mallowan Hall
 
 "Murder at Mallowan Hall is a well-plotted, often humorous, entertaining country house murder mystery in the classic style, with the twist being that it is set in the country home of detective novelist Agatha Christie. The main character is the no-nonsense housekeeper, Phyllida Bright, who discovers the body of an uninvited guest in the hall's library and sets out to solve the mystery." —Carol Schneck Varner, Schuler Books (Okemos, MI)
 
"Think of all that you could want from an English countryside manor murder mystery, and this novel is it.  From a cast of gentrified dinner party guests to the charming servants and staff below stairs, the questionably competent local law enforcement to the mysterious dead man in the library, Murder at Mallowan Hall has it all.  Then consider it is set at the home of the great Agatha Christie herself! Mrs. Bright is my new favorite amateur detective and I cannot wait for the next installment in this engrossing historical mystery series!" —Lori-Jo Scott, Island Bookstore (Kitty Hawk, NC)
 
"Great cozy mystery for fans of Agatha Christie and Downton Abbey.  Wonderful first mystery with a great detective in Agatha Christie's maid. I hope there is more to come, we need to learn Phyllida Bright's backstory, and where she learned to be such a badass." —Vikki Bell, Broad Bay Café (Waldoboro, ME)
 
"A delightful murder mystery!  Murder at Mallowan Hall felt like a combination of Clue, Upstairs Downstairs, and of course Agatha Christie.  I look forward to seeing what sleuthing Phyllida takes on next!" —Stefanie Lynn, The Kennett Bookhouse (Kennett Square, PA)
 
"Fantastically written and just spooky enough for my timid soul, I loved reading Murder at Mallowan Hall!" —Hannah Oxley, Mystery to Me (Madison, WI)
 
"Happy news for cozy mystery lovers—a truly interesting new amateur detective has arrived. Phyllida Bright, housekeeper for none other than Agatha Christie herself, quickly gets enmeshed in solving not one but two murders. With sly asides to Christie's own novels, this series starter holds its own as an engaging and well-crafted story. I'm looking forward to her next adventure." —Jan Blodgett, Main Street Books (Davidson, NC) on Murder at Mallowan Hall
 
"Wonderful premise of the upstairs/downstairs workings in the country home of Agatha Christie. Her housekeeper is devoted to her as they served together during the war. When a dead body appears during a weekend house party, Mrs. Bright takes charge of the situation and mirrors the skills of her other hero, Hercule Poirot." —Kathy Judge, Bound2please Books (Orange, VA) on Murder at Mallowan Hall
 
"Agatha Christie's indomitable and mysterious housekeeper Phyllida Bright takes on a killer in this exciting new series from Colleen Cambridge. Fans of historical mysteries—and Christie herself—will love this well-imagined homage, and the clever twists and numerous suspects will keep readers on their toes. I'm already looking forward to Phyllida's next adventure!" —Erica Ruth Neubauer, author of the Jane Wunderly Mysteries
 
"Amazing period details, clever clues, and plot twists abound. Colleen Cambridge has fashioned a delightful mystery from beginning to end for Agatha Christie fans." —D.E. Ireland, author of the Eliza Doolittle & Henry Higgins Mysteries on Murder at Mallowan Hall
 
"[A] solid series launch…Readers will want to see more of the clever Phyllida." —Publishers Weekly on Murder at Mallowan Hall