Another Time, Another Place: Five Novellas (Paperback)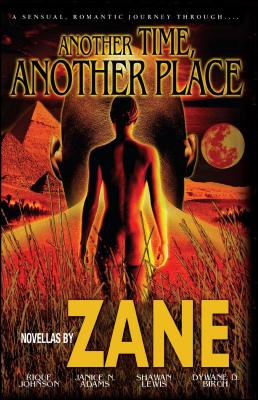 $26.99

Usually Ships in 1-5 Days
Description
---
Turn up the heat with five sensual novellas that take the readers on a wild ride of stimulation.

Led and edited by the New York Times bestselling author Zane, Another Time, Another Place transports sensuous and steamy encounters across the world and through history. From when the pharaohs ruled, to the forbidden romances in the time of the Vietnam War, to a future where technology has reshaped the meaning and making of love, this anthology showcases the popular talents of contributors such as Rique Johnson, Dywane D. Birch, and more.

Readers explore the many cultures and traditions that have shaped the concept of romance. These five novellas take readers to places they've only imagined before, fleshing out the sizzling detail and proving a satisfying read in the tradition of such runaway favorite anthologies as Chocolate Flava and Blackgentlemen.com.

With its lush settings and a taste for the unknown, Another Time, Another Place is a treat for the adventurous soul. This delicious collection, featuring five of the hottest African American authors today, brings whole new worlds to life.
About the Author
---
Zane is the New York Times bestselling author of Afterburn, The Heat Seekers, Dear G-Spot, Gettin' Buck Wild, The Hot Box, Total Eclipse of the Heart, Nervous, Skyscraper, Love is Never Painless, Shame on It All, and The Sisters of APF; the ebook short stories "I'll be Home for Christmas" and "Everything Fades Away"; and editor for the Flava anthology series, including Z-Rated and Busy Bodies. Her TV series, Zane's Sex Chronicles, and The Jump Off are featured on Cinemax, and her bestselling novel Addicted is a major motion picture with Lionsgate Films. She is the publisher of Strebor Books, an imprint of Atria Books/Simon & Schuster. Visit her online at EroticaNoir.com.

Rique Johnson is the author of Love and Justice, Whispers From a Troubled Heart, Every Woman's Man and A Dangerous Return.

Dywane D. Birch is the author of Shattered Souls and From My Soul to Yours. He has a master's degree in psychology and is a clinically certified forensic counselor.