Crime Novels of the 1960s: Nine Classic Thrillers (A Library of America Boxed Set) (Boxed Set)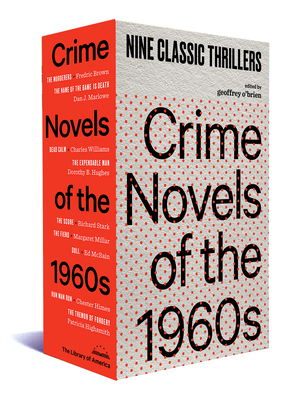 $80.00

Usually Ships in 1-5 Days
Description
---
Library of America presents a deluxe edition of unforgettable crime thrillers of the 1960s

Here in two volumes are 9 timeless novels, including 4 lost classics now restored to print
In the 1960s a number of gifted writers—some at the peak of their careers, others newcomers—reimagined American crime fiction. Here are nine novels of astonishing variety and inventiveness that pulse with the energies of that turbulent, transformative decade:
Fredric Brown's The Murderers (1961), a darkly comic look at a murderous plot hatched on the hip fringes of Hollywood.
Dan J. Marlowe's terrifying The Name of the Game Is Death (1962), about a nihilistic career criminal on the run
Charles Williams's Dead Calm (1963), a masterful novel of natural peril and human evil on the high seas.
Dorothy B. Hughes's The Expendable Man (1963), an unsettling tale of racism and wrongful accusation in the American Southwest.
Richard Stark's taut The Score (1964), in which the master thief Parker plots the looting of an entire city with the cool precision of an expert mechanic.
The Fiend (1964), in which Margaret Millar maps the interlocking anxieties of a seemingly tranquil California suburb through the rippling effects of a child's disappearance.
Ed McBain's classic police procedural Doll (1965), a breakneck story that mixes murder, drugs, fashion models, and psychotherapy with the everyday professionalism of the 87th Precinct.
Run Man Run (1966), Chester Himes's nightmarish tale of racism and police violence that follows a desperate young man seeking safe haven in New York City while being hunted by the law.
Patricia Highsmith's ultimate meta-thriller, The Tremor of Forgery (1969), a novel in which a displaced traveler finds his own personality collapsing as he attempts to write a novel about a man coming undone.
Each volume features an introduction by editor
Geoffrey O'Brien
(
Hardboiled America
), newly researched biographies of the writers and helpful notes, and an essay on textual selection.
About the Author
---
Fredric Brown (1906–1972) was considered a master of "Flash fiction" and has received high praise from colleagues such as Stephen King and Phillip K. Dick. Dan J. Marlowe (1914–1986) worked as the credit manager for a tobacco company before rising to prominence as a crime writer with The Name of the Game is Death. Charles Williams (1909–1975) published his first novel at the age of 42. Twelve of his novels were adapted to film, including Dead Calm, which gave Nicole Kidman her breakthrough role in 1989. Trained as a journalist, Dorothy B. Hughes (1904–1993) wrote The So Blue Marble, her first mystery novel, in 1940 and followed it with thirteen more. In 1978, she received the Grand Master award from the Mystery Writers of America. Donald Westlake (1933–2008) wrote over a hundred books under his own name and various pseudonyms, most famously Richard Stark. He was the recipient of three Edgar Awards and was named a Grand Master by the Mystery Writers of America. Margaret Millar (1915–1994) was an American-Canadian writer of suspense and mystery novels who was named a Grand Master by the Mystery Writers of America. Ed McBain (1926–2005) was the pseudonym used by Evan Hunter to publish his acclaimed series of police procedure novels, the 87th Precinct series. He was nominated for multiple Edgar Allan Poe Awards and was named a Grand Master by the Mystery Writers of America. Chester Himes (1909–1984) was known for his hard-boiled crime fiction, most notably the nine novels in his Harlem Detective series. In the 1950s, he moved to Paris, where he won France's Grand Prix de Littérature Policière in 1958. Patricia Highsmith (1921–1995) wrote over twenty highly acclaimed novels and many short stories. She is best known for her psychological thrillers, most notably Strangers on a Train and The Talented Mr. Ripley.

Geoffrey O'Brien, editor, is a poet, a widely published critic, and the author of books on crime fiction, film, music, and cultural history, including Hardboiled America, The Phantom Empire, Sonata for Jukebox, Where Did Poetry Come From: Some Early Encounters, and Arabian Nights of 1934. He was for many years editor-in-chief of Library of America.