The Weeknight Mediterranean Kitchen: 80 Authentic, Healthy Recipes Made Quick and Easy for Everyday Cooking (Paperback)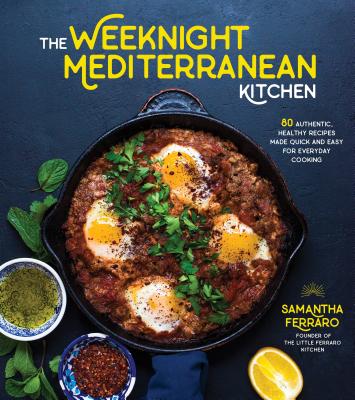 $22.99

Usually Ships in 1-5 Days
Description
---
With a focus on vibrant, modern flavors and a gorgeous full page photo for each recipe, the Mediterranean diet has never been easier or more delicious!

Samantha Ferraro's fresh and simple dishes make it easy to eat healthy food throughout the week. Enjoy all of the amazing benefits of the Mediterranean diet, no matter how busy your schedule. Lean proteins, bright produce and heart-healthy oil make for light meals full of zesty, aromatic spices that leave you nourished and satisfied.

Try One-Pot Paprika Chicken with Olives and Orzo when you need dinner in a hurry—you'll be transported by each layer of flavor, with a bonus of quick cleanup. Red Lentil Falafel is a fun, family-friendly meal, and Stuffed Tomatoes with Lamb and Feta make a colorful spread for guests. With so many choices of creative soups and salads, richly-spiced meats, healthy grains and indulgent desserts, cooking the Mediterranean way is a breeze even on your busiest weeknights.
About the Author
---
Samantha Ferraro is the author of The Weeknight Mediterranean Kitchen and founder of the food blog The Little Ferraro Kitchen. Her recipes have been featured in PBS Food, The Huffington Post, LA Times, Babble, Yummly and The Washington Post. Samantha lives in Bellingham, Washington.
Praise For…
---
"This book perfectly encapsulates the Mediterranean food movement we're experiencing across the country. These are the kinds of dishes we crave, sometimes without even knowing we're craving them. The flavors, the tone, the spirit—it's all spot-on."
-Jenn Harris, Deputy Food Editor, L.A. Times

"Sam has absolutely nailed it with this cookbook! With quick and easy weeknight meals to get you through the week, you will find everything you need here."
-Chungah Rhee, founder and author of Damn Delicious

"I want to make every single, colorful dish in Samantha's cookbook, and so will you. The combination of her mouth-watering photos and unique takes on Mediterranean cuisine will have you cooking and baking non-stop."
-Shannon Sarna, author of Modern Jewish Baker and founding editor of The Nosher

"The Weeknight Mediterranean Kitchen is bursting with flavor and freshness. Samantha has a relaxed approach to cooking that truly encompasses the Mediterranean lifestyle."
-Nicole Gaffney, TV personality and blogger at Coley Cooks

"In The Weeknight Mediterranean Kitchen, Samantha's recipes seem fancy, but they are simple enough to become weeknight staples. Which works out, because I want to eat her Za'atar Chicken Skewers every day!"
-Amy Kritzer, author of Sweet Noshings, owner of What Jew Wanna Eat and ModernTribe.com