The Woman Back from Moscow: In Pursuit of Beauty: A Novel (Paperback)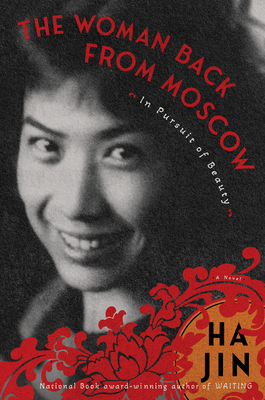 $21.99

Usually Ships in 1-5 Days
Description
---
Through the life of a remarkable woman—based on pioneering stage director Sun Weishi (1921–1968)—this epic novel immerses us in the multifaceted history of China's Communist Party.

A powerful, insightful account from the National Book Award–winning author, who came of age during the Cultural Revolution.

As a promising young actress, Sun Weishi made the critical decision to pursue her studies in Moscow—with the blessing of her influential adoptive father, Zhou Enlai, and Mao himself. The valuable insights she gained there during World War II, most notably the significance of characters' inner lives, would enable her to excel back in China, where she produced works by Chekhov and Gogol, and other socially progressive dramas, such as an adaptation of Uncle Tom's Cabin. Her striking career as China's first female director of modern spoken drama (Huaju) would be derailed with the advent of the Cultural Revolution in 1966, however, which put her once again at odds with an old enemy—Jiang Qing, a fellow actress who schemed her way to the top as Mao's fourth and final wife.

Through the decades-long rivalry between these two complex women, and their differing approaches to the men in power who shaped their lives, Ha Jin deftly explores the ideals of communism and the reality of the Chinese Communist Party. At the same time, the novel captivates us with Sun Weishi's personal struggles and triumphs, as she navigates friendship, love, art, and politics amidst the great events of the twentieth century.
About the Author
---
Ha Jin grew up in mainland China and served in the People's Liberation Army in his teens for five years. After leaving the army, he worked for three years at a railroad company in a remote northeastern city, Jiamusi, and then went to college in Harbin, majoring in English. He has published in English nine novels, four story collections, four volumes of poetry, a book of essays, and a biography of Li Bai. His novel Waiting won the National Book Award for Fiction, the PEN/Faulkner Award, and was a finalist for the Pulitzer Prize. Ha Jin is William Fairfield Warren Distinguished Professor in English and Creative Writing at Boston University, and he has been elected a fellow of the American Academy of Arts and Letters and the American Academy of Arts and Sciences. His writing has been translated into more than thirty languages.
Praise For…
---
"[Ha Jin] conveys in supple prose what Beijing inevitably will regard as too much truth about the history of the [Chinese Communist Party]…with a deft pen fueled by reading, imagination, and empathy, he reveals mental life…the most extraordinary achievement of the novel is its brilliantly credible evocation of the ordinary." —New York Review of Books

"An epic historical novel of communist China, illuminated through the life of an extraordinary real-life woman…The redemption of a historical figure whose life ended in political disgrace." —Kirkus Reviews 

"The Woman Back from Moscow is a brilliant historical novel of a young woman who dares to pursue her artistic dream amid the political shadow of China from the late 1930s to the 1960s, a poignant revelation of Chinese affinity to Russian culture and politics, and a penetrating study of the powerful Communist Party leaders, whose love and lust spell the rise and fall of those close to them, all told in Ha Jin's signature prose, simple yet hypnotic. The Woman Back from Moscow reminds me of Wolf Hall, in its epic range and intensity and importance. Readers of historical fiction and literary fiction will relish this masterpiece." —Weina Dai Randel, Wall Street Journal bestselling author of The Last Rose of Shanghai and Night Angels

"The Woman Back from Moscow is an enthralling tale of courage, conviction, and resilience. Ha Jin's evocative portrayal of Sun 'Yomei' Weishi—an idealistic actress turned stage director—reflects his meticulous research and powerful imagination. During the Cultural Revolution, Sun gets caught in the cross hairs of Jiang Ching, Mao Zedong's vengeful wife. Deeply compelling." —Vanessa Hua, author of Forbidden City

"The Woman Back from Moscow is a rich and fascinating work that questions what art can and should be in times of tremendous political and social upheaval. Chronicling one brilliant woman's turbulent artistic career, and her unrelenting pursuit of her own aesthetic ideals, this story also brings monumental figures like Mao Zedong, Zhou Enlai, and Jiang Ching down to their true, smaller-than-human scale. Ha Jin's disarmingly straightforward yet fastidiously imagined prose looks clearly into the full range of human desire and pettiness. This is an epic undertaking by an essential Chinese and American writer." —Meng Jin, author of Self-Portrait with Ghost and Little Gods