Marketing Artificial Intelligence: AI, Marketing, and the Future of Business (Hardcover)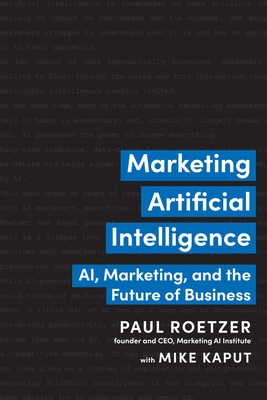 $25.00

Usually Ships in 1-5 Days
Description
---
Artificial intelligence is forecasted to have trillions of dollars of impact on businesses and the economy, yet many marketers struggle to understand what it is and how to apply it in their marketing efforts.

The truth is, AI possesses the power to change everything.

While AI-powered marketing technologies may never achieve the sci-fi vision of self-running, self-improving autonomous systems, a little bit of AI can go a long way toward dramatically increasing productivity, efficiency, and performance.

Marketing AI Institute's Founder & CEO, Paul Roetzer, and Chief Content Officer, Mike Kaput, join forces to show marketers how to embrace AI and make it their competitive advantage.

Marketing Artificial Intelligence draws on years of research and dozens of interviews with AI marketers, executives, engineers, and entrepreneurs. Roetzer and Kaput present the current potential of AI, as well as a glimpse into a near future in which marketers and machines work seamlessly to run personalized campaigns of unprecedented complexity with unimaginable simplicity.

As the amount of data exponentially increases, marketers' abilities to filter through the noise and turn information into actionable intelligence remain limited. Roetzer and Kaput show you how to make breaking through that noise your superpower.

So, come along on a journey of exploration and enlightenment. Marketing Artificial Intelligence is the blueprint for understanding and applying AI, giving you just the edge in your career you've been waiting for.
About the Author
---
Paul Roetzer is founder and CEO of PR 20/20 and Marketing Artificial Intelligence Institute; author of The Marketing Performance Blueprint (Wiley, 2014) and The Marketing Agency Blueprint (Wiley, 2012); and creator of the Marketing Artificial Intelligence Conference (MAICON) and AI Academy for Marketers. His first book, The Marketing Agency Blueprint, serves as a guide for building tech-savvy, hybrid agencies that are more efficient, influential and profitable than traditional firms. As a speaker, Roetzer is focused on making AI approachable and actionable, and helping change agents drive transformation through marketing talent, technology and strategy. A graduate of Ohio University's E.W. Scripps School of Journalism, Roetzer has consulted for hundreds of organizations, from startups to Fortune 500 companies.