MIND Diet for Two: 65 Perfectly Portioned Recipes to Boost Your Brain Health (Paperback)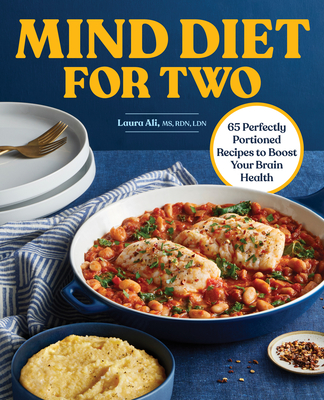 $14.99

Usually Ships in 1-5 Days
Description
---
Boost your brain health with MIND diet recipes made just for two
The MIND diet combines two of the healthiest diets in the world—the Mediterranean diet and the DASH diet—and can improve brain health and lower your odds of developing age-related problems. This comprehensive cookbook features MIND diet recipes made for just two people. You'll both enjoy eating foods that protect and nourish the brain without all the leftovers.
What sets this MIND diet cookbook apart:
The power of the MIND diet—Learn the history of the MIND diet (Mediterranean-DASH Intervention for Neurodegenerative Delay) and why its focus on foods like whole grains, vegetables, and seafood is so good for the brain.
Perfectly portioned recipes—Each of these mouthwatering recipes is designed for two people, so there's no converting measurements, figuring out portion sizes, or dealing with lots of leftovers or waste.
Simple steps and ingredients—Create a wide variety of delicious recipes that feature ingredients you can find at your local grocery store.
Keep your mind healthy and sharp by eating the brain-boosting foods featured in the
MIND Diet for Two
.
About the Author
---
LAURA ALI, MS, RDN, LDN, is a food-loving registered dietitian, culinary nutritionist, and freelance writer based in Pittsburgh, PA. You can learn more about Laura at www.LauraMAli.com, where she shares delicious recipes and tips to make life easier in the kitchen.
Praise For…
---
"So many cookbooks focus on recipes and menus to feed families, which can lead to a lot of waste or leftovers for those cooking for only one or two. This book offers the perfect solution with delicious, nutrition-packed recipes perfect for couples that will ensure you enjoy all the benefits of the MIND diet while satisfying your food cravings. It's a must-have for every couple!" —Erin Palinski-Wade, RD, CDCES, founder and creator of HealthyMomHappyFamily.com

"If you want to cook healthfully for two, this is the book is for you! Laura Ali artfully guides readers toward MINDful habits and specific foods that supply nutrients the brain needs to thrive. She offers well-crafted sample menus, inspired by MIND diet principles, and a wide variety of brain-boosting recipes perfectly proportioned for two." —Karen Buch, RDN, LDN, writer, food and culinary nutrition consultant, founder of Nutrition Connections LLC

"If you want to follow the MIND Diet but don't have a large family to feed, this is the book for you. Ali does a fantastic job of explaining the nuts and bolts of the diet while supplying delicious and unintimidating recipes for cooks of any skill level." —Amy Gorin, MS, RDN, plant-based dietitian and owner of Master the Media in Stamford, CT

"As a nutrition professional and someone who is aging gracefully, this cookbook speaks to me directly. Ali's selection of recipes and ingredients is realistic and achievable. I'm particularly interested in the seafood chapter as I'm constantly searching for ways to increase fish consumption in the diet. The science, combined with the recipes, make this a standout on my bookshelf." —Robin Plotkin, RDN, culinary nutritionist