Whose Choice Is It? Abortion, Medicine, and the Law, 7th Edition (Paperback)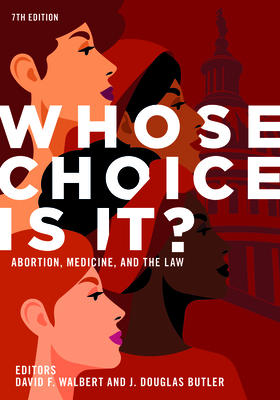 $129.95

Usually Ships in 1-5 Days
Description
---
Whose Choice Is It? Abortion, Medicine, and the Law, 7th Edition is the definitive book that addresses every aspect of reproductive health and abortion in the United States and worldwide. It also addresses contraceptive and abortion practices, how the world is changing in those regards, and what the future likely holds. No other source provides the comprehensive medical, ethical, and legal analyses in this book. Counsel advising a client about reproductive health or abortion will find the book an invaluable resource that can be used either to learn about specific topics in depth, or as a quick reference guide. Constitutional law in the United States and Canada is explained in depth, and the chapter on comparative law is a unique treatment of applicable laws - both historically and presently - around the world.
The contributing authors are experts in their fields, making this edition the "must have" book for anyone with any interest in these subjects.
About the Author
---
David F. Walbert received degrees in physics from Stanford and the University of Michigan before he returned home to law school at Case Western Reserve University. He has also taught Constitutional Law and Constitutional Litigation at the Emory University School of Law, spoken frequently at legal education seminars, and published articles in various legal journals. In addition to more traditional litigation, Mr. Walbert has represented clients in many constitutional cases, including before the U.S. Supreme Court where he has argued several times. His litigation practice has included cases involving medical practice standards and regulatory issues that overlap with the many medical issues that are addressed in Whose Choice Is It? Dr. J. Douglas Butler studied at Case Western Reserve University's joint program with the schools of medicine and law. Upon completion of his studies, he left the United States for several years to practice and further study medicine in other countries. Those experiences took him to Ecuador where he served as a medical missionary and then to Portugal where he studied pediatric orthopedics. While Dr. Butler was not an OB/GYN delivering babies, he became keenly aware of the appalling practices in Latin America regarding reproductive medical care. He practiced medicine in Maryland after returning to the United States from Portugal and was inducted into the American College of Legal Medicine, where he continues to be a member.