Santo remedio: Entalla / Doctor Juan's Top Home Remedies. Entalla, Weight Loss P rogram (Paperback)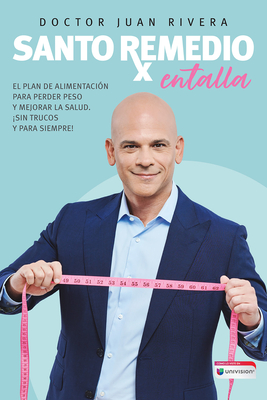 $17.95

Usually Ships in 1-5 Days
Other Books in Series
This is book number 3 in the Santo Remedio series.
Description
---
Lograr tu peso ideal va más allá de cómo te ves en el espejo: tu salud depende en gran medida de que te mantengas en talla. ¡Ya basta de dietas con trucos! Aquí tienes la clave para bajar de peso, tener una mejor nutrición y vivir una vida larga y saludable.

Tras más de una década dedicado a educar y a crear herramientas de salud preventiva y luchar contra la obesidad, el doctor Juan Rivera de Univision, junto a la nutricionista Sabrina Hernández-Cano, creó Entalla, un sistema de pérdida de peso que combina productos patentados, planes de dieta y recetas para facilitar el control del peso y mejorar la salud en general.

Doctor Juan tiene muy en claro que la salud es un requisito para prosperar. Si tu cuerpo y tu mente no están en buena condición ¿cómo vas a dar lo mejor de ti en tu trabajo, en tus relaciones familiares e inclusive, en tus relaciones amorosas y sexuales? Tu salud y bienestar son prioridad. La manera inteligente de pensar y proceder cuando se
trata de cuidarte es la prevención.
 
Una de las maneras en que puedes tomar el control de tu salud, es controlando tu peso y Santo remedio entalla te brinda paso a paso el plan para lograrlo. El programa Entalla se divide en tres fases: limpieza, pérdida de peso y mantenimiento. En estas páginas te explicamos en qué consiste cada una, te damos consejos y deliciosas recetas. No es para nada un plan rígido: elige el plan de alimentación de la fase de pérdida de peso que más se adapte a tu estilo de vida ¡y hasta puedes cambiarlo cuando lo desees!
 
· Keto
· Paleo
· Bajo índice glucémico
· Basado en plantas
· Mediterráneo
· Ayuno intermitente
 
Recuerda que existen muchos factores en nuestra vida diaria que son importantes y a los que hay que atender: dormir, hacer ejercicio, controlar el estrés, mantener las relaciones sociales o moderar el consumo de alcohol, por poner algunos ejemplos. Todos en conjunto determinan quiénes somos y qué hacemos por nuestra salud, por eso el libro incluye una sección de santos remedios que te ayudarán a:
 
· Manejar el estrés, aumentar la energía y mantener la hidratación
· Apoyar el consumo de prebióticos, probióticos y posbióticos
· Fomentar el consumo de fibra y proteína
· Mejorar el sueño y fortalecer el cerebro
 
No puedes esperar a que tu salud se deteriore —a tener diabetes, dolores de pecho, artritis severa o cáncer—, para querer hacer algo al respecto. La inversión tiene que ser diaria y proactiva, eso es lo que va a determinar la calidad de tu vida en el futuro y también tu longevidad.


ENGLISH DESCRIPTION

Enough of tricky diets! Entalla is a food system to help you lose weight, having a better nutrition and a healthier life.

There are many important factors in our daily lives to which we must pay attention. Some of them are sleeping, exercising, managing stress, and maintaining social relationships. Together they determine who we are and what we do for having a better health. But there is a risk factor that is completely out of control in our society: obesity.

Achieving your ideal weight goes beyond how you look in the mirror. Your health depends largely on keeping fit, "en talla". Dr. Juan Rivera –together with nutritionist Sabrina Hernández-Cano—, created Entalla, a weight loss system that combines patented products, diet plans, and recipes to facilitate weight control and to improve overall health. The program is the product of over a decade of work they have dedicated to educate and create preventive health tools.
 
With this book you will get to know Entalla and its three phases: cleansing, weight loss —with 6 eating styles to choose from— and maintenance, each one accompanied by delicious recipes. In addition, you'll find a section of holy remedies that will help you to:
 
Manage stress, increase energy and maintain hydration.
Support the consumption of prebiotics, probiotics and postbiotics.
Encourage fiber and protein intake.
Improve sleep and strengthen the brain.
About the Author
---
El Dr. Juan Rivera es médico internista, especializado en Cardiología y con estudios realizados en el prestigioso Johns Hopkins University Hospital. Su credibilidad, experiencia, cercanía y carisma lo han convertido en el líder indiscutido en temas de salud en la comunidad hispana. Es experto médico para la cadena Univision en programas como Primer Impacto, Despierta América, Noticiero Univision y Al Punto, con Jorge Ramos. Actualmente maneja su propio centro de Salud, Prevención y Bienestar Cardiovascular en el prestigioso Hospital Mount Sinaí de Miami Beach, Florida, donde también es director de Prevención Cardiovascular en la División de Cardiología. Es el autor de los bestsellers Santo remedio para mujeres (2020), Santo remedio (2017) y Mejora tu salud de poquito a poco (2016).