A Penny's Worth (Hardcover)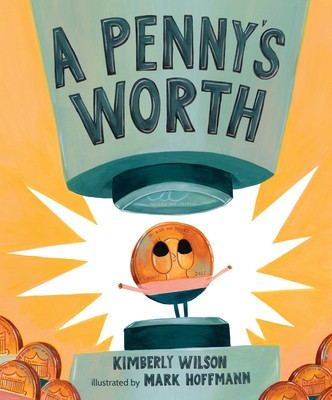 $17.99

Usually Ships in 1-5 Days
Description
---
Pennies, worthless? Non-cents!

Hot off the minting press, Penny feels like a million bucks. But as other coins and bills are spent while she sits forgotten, she begins to doubt her value. She is too small to slot-surf with Quarter. Even penny candy sells for a dime! Refusing to be short-changed, she sets out to find her purpose at any cost.

Readers will laugh at a wealth of money puns, learn a basic lesson on US currency, and discover that self-worth is truly priceless.
About the Author
---
Kimberly Wilson is a children's author who is always on the lookout for lucky pennies and believes wishes do come true. She studied creative writing in college and has since taken countless workshops/classes/webinars/etc. to improve her craft. Kimberly lives in North Carolina with her husband and their two daughters. This is her debut picture book.

Mark Hoffmann is a college professor as well as a children's book illustrator. He has a BFA in illustration from RISD and an MFA in visual design from the University of Massachusetts, Dartmouth. Mark has written and/or illustrated many children's books, including Dirt Cheap (Penguin Random House). He lives in Salem, New Hampshire.
Praise For…
---
"A perfect opportunity to discuss the difference between mere purchasing power and real value." — Booklist

"Filled with clever and chucklesome wordplay, Wilson's spry narrative is engaging but also educational, providing a solid, accessible introduction to basic money equivalents." — Kirkus Reviews

"Highly appropriate for mathematics lessons, this tale will make children chuckle while teaching them about coins and dollar bills [...] A lighthearted introduction to the monetary and sentimental value of American currency, with a subtext on the hidden value of less measurable sums." — School Library Journal