The Celiac Disease Diet Plan: Your Guide to a Healthy Gluten-Free Lifestyle (Paperback)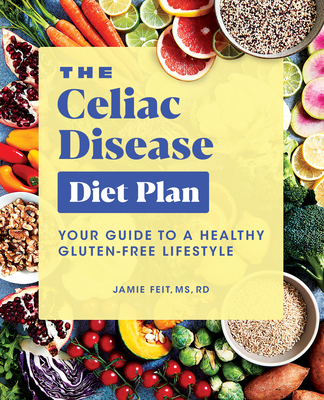 $16.99
Email or call for price
Description
---
Embrace your gluten-free lifestyle with this complete celiac disease diet plan
Unlike typical gluten-free cookbooks,
The Celiac Disease Diet Plan
is specifically designed for people living with celiac disease. Whether you've just been diagnosed or have already made the transition to a gluten-free diet, this comprehensive book will help you better understand your condition—and give you the necessary know-how to lead a happy, healthy, gluten-free life.
Featuring dozens of quick, easy recipes, this essential celiac disease diet plan will meet all of your needs, providing helpful tips for stocking your pantry, advice for traveling and eating at restaurants, and an easy-to-follow two-week meal plan to jump-start your gluten-free diet. Cook with confidence!
The Celiac Disease Diet Plan
includes:
65 Delicious gluten-free recipes—Dive into your gluten-free diet with a sample two-week meal plan, comprising tasty dishes throughout the book.
Celiac facts—Gain a better understanding of celiac disease with a detailed overview of the science, the symptoms, related conditions, diagnostic tests, and more.
Gluten-proofing guide—Learn how to gluten-proof your kitchen, prevent cross-contamination, scan food labels for gluten, and make your own gluten-free flours and crusts.
Living gluten-free can be carefree with this complete celiac disease diet plan.
Recipes include
Mediterranean Egg Cups, Honey Teriyaki Chicken Wings, Rosemary-Crusted Lamb, Chipotle Fish Tacos, Turkey Meatball and Kale Soup, and Pecan Squares.
About the Author
---
Jamie Feit, MS, RD, is a registered dietitian who teaches busy moms how to prepare healthy gluten-free and kosher food that their families will enjoy, without spending hour upon hour in the kitchen. She is the creator of the Shabbat Made Easy kosher meal plan program, available on her website at jamiefeitnutrition.com.