The Golden Spoon: A Novel (Paperback)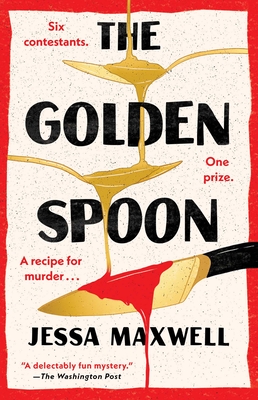 $17.00

Coming Soon - Available for Pre-Order Now
March 2023 Indie Next List
---
"Imagine The Great British Baking Show with a splash of Agatha Christie murder mystique. Interesting characters, intriguing subplots, and a fun setting kept me turning the pages. This is a book I can put into the hands of any reader."
— Gail Dickson, The Bookstore of Glen Ellyn, Glen Ellyn, IL
Description
---
"This delicious combination of Clue and The Great British Bake Off kept me turning the pages all night!" —Janet Evanovich, #1 New York Times bestselling author

Only Murders in the Building meets The Maid in this "deliciously entertaining whodunit" (Sarah Penner, New York Times bestselling author) where someone turns up dead on the set of TV's hottest baking competition—perfect for fans of Nita Prose, Richard Osman, and Anthony Horowitz.

Every summer for the past ten years, six awe-struck bakers have descended on the grounds of Grafton, the leafy and imposing Vermont estate that is not only the filming site for "Bake Week" but also the childhood home of the show's famous host, celebrated baker Betsy Martin.

The author of numerous bestselling cookbooks and hailed as "America's Grandmother," Betsy Martin isn't as warm off-screen as on, though no one needs to know that but her. She has always demanded perfection, and gotten it with a smile, but this year something is off. As the baking competition commences, things begin to go awry. At first, it's merely sabotage—sugar replaced with salt, a burner turned to high—but when a body is discovered, everyone is a suspect.

A sharp and suspenseful thriller for mystery buffs and avid bakers alike, The Golden Spoon is "as addictive as bingeing your favorite culinary competition and as satisfying as a piece of your favorite cake" (Kellye Garrett, author of Like a Sister).
About the Author
---
Jessa Maxwell is the author of The Golden Spoon and I Need You to Read This. She is also the author and illustrator of five picture books for children. Her comics and cartoons have been published in The New Yorker and The New York Times and her writing has been published in Slate, Marie Claire, and many others. She now lives in Jamestown, Rhode Island with her husband, two cats and three-legged dog.
Praise For…
---
"Fans of The Great British Baking Show, rejoice! This cozy whodunit is for you." —NPR

"Two things I love are great food and a great mystery—and The Golden Spoon has both. This delicious combination of CLUE and The Great British Bakeoff kept me turning the pages all night!" —JANET EVANOVICH, #1 New York Times bestselling author of The Recovery Agent

"Clever, atmospheric, and creepy, with a spooky mansion, the kind of quirky, reality-TV-ready ensemble you can't help but adore, and storylines as expertly interwoven as a blue-ribbon challah. I can't wait for whatever Maxwell bakes up next." —ANDREA BARTZ, New York Times bestselling author of We Were Never Here

"The Golden Spoon is as addictive as bingeing your favorite culinary competition and as satisfying as a piece of your favorite cake. It's a complex, layered mystery featuring an unforgettable cast of characters who could be either America's next great baker or its next most famous cold-blooded killer. Jessa Maxwell has crafted a debut that's mouth wateringly good." —KELLYE GARRETT, Agatha, Anthony, and Lefty Award winning author of Like a Sister and Missing White Woman

"Jessa Maxwell's debut is a deliciously entertaining whodunit—charming characters, baking mishaps, and a mouthwatering murder mystery. Readers and baking enthusiasts will savor every bite of The Golden Spoon." —SARAH PENNER, New York Times bestselling author of The Lost Apothecary

"At last, a baking show with a murder; cleverly constructed so we not only wonder who is the murderer, but who will be the victim. A delightful bake." —CHRISTOPHER MOORE, New York Times bestselling author of Lamb, Noir, and A Dirty Job

"A delicious confection—in this multi-character CLUE meets the British Bake Off everyone is suspicious, and the solution will surprise you. I ate it up." —CATHERINE MCKENZIE, USA Today bestselling author of Have You Seen Her

"Who knew that the one thing to make me love the Great British Bake-Off even more was to add a (fictional) dead body? Take a cozy setting like Grafton, add in a diverse cast with their own hopes and dreams and hidden agendas, and toss in a couple of hosts who are not as perfect as they'd like you to think, and you've got a foolproof recipe for a great read. If you're a fan of character-driven mysteries and delicious bakes, you absolutely have to check out The Golden Spoon" —MIA P. MANANSALA, author of the Agatha, Anthony, and Macavity Award-winning Arsenic and Adobo

"Sweet and savory turns deadly sour in this fast-paced, entertaining romp...Maxwell is off to a great start." —Publishers Weekly (starred review)

"A fantastically fun mystery with a perfect setting. It's Knives Out meets Agatha Christie. I was delightfully surprised throughout." —SARAH LANGAN, author of Good Neighbors