In the Form of a Question: The Joys and Rewards of a Curious Life (Hardcover)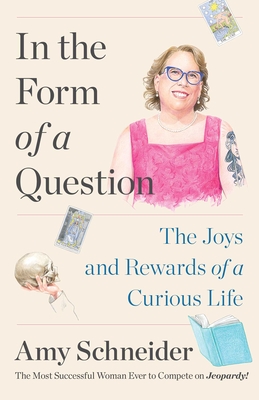 $28.00

Usually Ships in 1-5 Days
Description
---
An inspirational and bold memoir from the most successful woman ever to compete on Jeopardy!—and an exploration of what it means to ask questions of the world and of yourself.

In eighth grade, Amy was voted "Most likely to appear on Jeopardy!" by her classmates. Decades later, this trailblazer finally got her chance. Not only did she walk away with $1.3 million while captivating the world with her impressive forty-game winning streak, but she made history and won an even greater prize—the joy of being herself on national television and blazing a trail for openly queer and transgender people around the world. Now, she shares her singular journey that led to becoming an unlikely icon and hero to millions. Her super power: Boundless curiosity and fearless questioning.

In the Form of a Question explores some of the innumerable topics that have fascinated Amy throughout her life—books and music, Tarot and astrology, popular culture and computers, sex and relationships—but they all share the same purpose: to illustrate, and celebrate, the results of a lifetime spent asking, why?
About the Author
---
Amy Schneider is an American software engineer and recent Jeopardy! champion. Following an impressive forty-game winning streak, she became the most successful woman ever to compete on Jeopardy!. She is second all-time in the show's history, trailing only Ken Jennings. Amy is also the first openly transgender contestant to qualify for the Tournament of Champions. She has been covered in People, The New York Times, Los Angeles Times, The Washington Post, USA TODAY, and more, and she has appeared on Good Morning America.
Praise For…
---
"Amy Schneider is one of the Jeopardy! greats, second only to Ken Jennings in games won . . . In her new memoir, she locks down a No. 1 spot, though, for best hang. . . . Her prose is warm and funny. . . . Images from a handwritten diary entry from the day her first wife left; her candor about self-loathing; the nervous ecstasy in her trans awakening—that's where the book feels the most special and alive. . . . Trans stories are often commodified for either misery or nobility in the face of misery, but In the Form of a Question is a much fuller, livelier, more textured and sardonic picture." —New York Times

"Written with wit and transparency, as well as the occasional passionate chapter on pop culture gems like the '90s MTV staple Daria, In the Form of a Question is both a multi-faceted portrait and an ode to learning." —People

"Delightful . . . Offers a multifaceted portrait of a figure most of us still only know from the small screen . . . Schneider is a cheerful, probing, and footnote-addicted guide. (The footnotes, sometimes one-word asides, are hilarious.) . . . The book embodies the kind of sensibility that can get a person onto the Jeopardy! stage at all—an omnivorous curiosity and willingness to engage. . . . Inspiring." —The San Francisco Chronicle

"Refreshingly no-holds-barred." —USA Today

"Her book is concerned with the biggest question of all: Who am I? In essays on cross-dressing pre-transition, polyamory, and living with attention-deficit disorder, Schneider introduces readers to the real, messy, complex Amy." —Wall Street Journal

"With In the Form of a Question, Schneider shows us her sense of humor and peels back her pearls-wearing Jeopardy! persona to share her real-life experiences—including dabbling in drugs, awkward sex moments, and cringe-worthy wonder-years memories. No scar is left unpicked—and with wit." —Boston Globe

"A wryly funny memoir. . . A pleasure and an education await in the reading. . . . For a funny, memorable, philosophical take on life, Schneider's book is far and away the winner." —Kirkus Reviews

"Schneider invites readers into some of the most intimate areas of her life as she pokes around them herself. . . . Each chapter title is phrased as a question, cheekily playing off the Jeopardy! format while also evoking the relentless interrogation trans people often face from their cisgender peers. It's candid and vulnerable, but the answers always unfold on Schneider's own terms—and they are frequently laugh-out-loud funny." —them

"Schneider reveals the concerns of a normal life changed by sudden notoriety, and she does so with self-awareness and a hefty dose of humorous footnotes. . . . Schneider's memoir fully commits to her own voice with unapologetic honesty. She grants grace to herself and others for what they know and don't know, emphasizing how personal evolution is always possible if someone, above all else, keeps learning." —Shelf Awareness (starred review)

"In this funny, candid, and confident debut, Amy takes us along on her lifelong journey of discovery, about the world and about herself. This is no ordinary Jeopardy! memoir—but then again, Amy Schneider is no ordinary Jeopardy! champion." —Ken Jennings