Friday Night Cocktails: 52 Drinks to Welcome Your Weekend (Hardcover)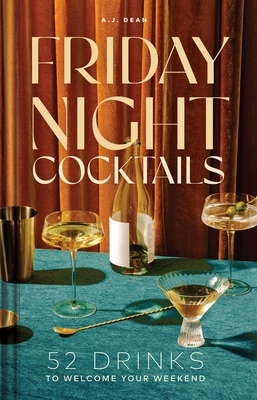 $19.95

Usually Ships in 1-5 Days
Description
---
Friday Night Cocktails says, "The workweek is over. The weekend is full of chores and activities. Right now I just want to take a moment for myself. Let's have a cocktail!"
​
Friday Night Cocktails is for 30-somethings and, really, anyone who's interested in a well-made but not fussy homemade mixed drink. The 52 cocktails (plus numerous variations) are made with common ingredients that readers can easily stock up on and keep at hand. Importantly, the focus of the book is "cocktail as ritual" - a recognition that the transition from the workweek to the weekend should be celebrated. Rituals help us define beginnings and endings. And what better way to close the door on the week and welcome the weekend with open arms than with a chilled cocktail?

The drinks include old stand-bys (e.g., Gin & Tonic) as well as new takes on the standards (e.g., Blood Orange Margarita). The message throughout is "Try something new, but be mindful of the tried-and-true." Friday Night Cocktails is your invitation to slow down and take a moment for yourself.
About the Author
---
When was the last time you wore a cape to the opera? Or an Easter bonnet? AJ Dean is a big believer that time-honored traditions are important and that rituals, no matter how simple, are a healthy part of our lives. Dean can be found walking the streets of San Francisco. And he always wears an appropriate hat.
Praise For…
---
"With its elegant photographs and gleaming, gilt-letter packaging, Friday Night Cocktails is a crowd-pleasing guide for those who raise their glasses to the weekend."
— Foreword Reviews

"...gorgeous photography, simple instructions, and handy tips throughout—including how to create the perfect egg white foam—make this a valuable companion for anyone looking to expand their cocktail repertoire."
— Publishers Weekly

"If you always find yourself mixing up the same drink for weekends and holidays, it might be time to branch out and enter Friday Night Cocktails."
— Serendipity Magazine

"This book is PACKED with delicious adult beverage recipes. It's a great adult stocking stuffer & fun gift for a hostess, as well!"
— Jeni Hawkins, founder of That's Just Jeni Blog