Into the Woods for a Basket of Soup (Paperback)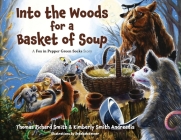 $14.99

Usually Ships in 1-5 Days
Description
---
A young boy is sitting on his porch at dusk. He is wondering what to do next. He is bored and sad. There are no children to play with. He is wishing he has some company. He begins to listen to the sounds around him in the night. The trees are rustling.
Then he notices some movement in the woods in front of him.
What are the animals up to? He observes an interesting sight; a group of animals are getting together to share a meal
The boy becomes very interested in the fox. Into the Woods for a Basket of Soup is a Read and Learn Publication. The illustrations are designed to be provocative. The reader is provided with opportunities to learn and to teach, a new word, an idea or concept.
At the back of the book, find fun facts about the animals in this book and how they live. You will also find some questions for discussion.