Fish for You: Inspired Seafood Recipes from Market to the Plate (Paperback)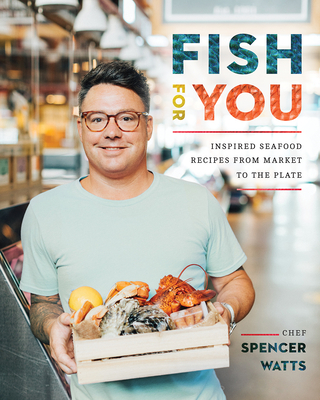 $34.95

Usually Ships in 1-5 Days
Description
---
Exciting and delicious seafood recipes that will inspire and ignite your inner chef.
Celebrity Chef Spencer Watts has Fish For You This long-awaited seafood cookbook features fun, exciting and globally influenced recipes with one-of-a-kind twists on seafood and fish. Spencer makes the ordinary not so ordinary and provides recipes that are celebrated by beginners and culinary superstars alike. Be inspired to love seafood and be a fun food maker with Chef Spencer Watts' Fish For You.
Separated into 6 different sections including Happy Hour, Salads, Hand-helds, Pasta and more, Fish for You includes a wide variety of recipes including: Crispy Fried Oysters, Brioche Shrimp Toast Bites, Warm Lobster/Potato Salad, Creole Shellfish Bisque, Jerk Rubbed Mahi Mahi Tacos, Nashville Style Crispy Fried Halibut Sandwich, Steamed Mussels and Clams, Salt Cod Filo Pie, Shellfish Cassoulet, Dungeness Crab Croquette, Baked Halibut in Puff Pastry, Miso Honey Glazed Salmon Rice Bowls and more
About the Author
---
Spencer Watts pioneered the sustainable seafood movement on the Sunshine Coast and opened his first restaurant Spence on the Coast, bringing his love and passion for seafood to locals. He joined the Canadian Rocky Mountain Resorts team as head chef of the Painted Boat Resort and Spa in 2010, bringing with him a vision of sustainability, and a willingness to push culinary boundaries. He also started his first television series with the local cable channel, which eventually led to the creation of almost 100 episodes of prime time television. A fast favorite with viewers, the shows Spencer has hosted have twice won the Oscars of food television: the James Beard Award.