Enchanted Forest: An Inky Quest and Coloring Book for Adults (Paperback)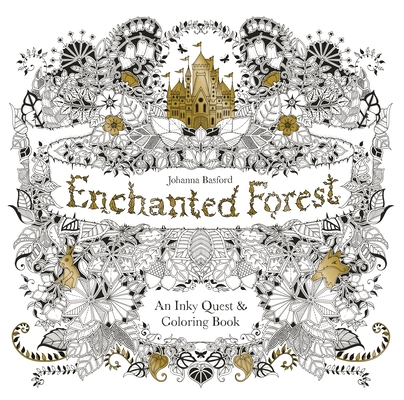 $15.95

Usually Ships in 1-5 Days
Description
---
Fall under the spell of the #1 New York Times Bestseller, Enchanted Forest!

This stunning coloring book by Johanna Basford takes readers on an inky quest through an enchanted forest to discover what lies in the castle at its heart. As well as drawings to complete, color, and embellish, there are hidden objects to be found along the way. Can you spot the wild flowers, animals, and birds? What about the lanterns, keys, and treasure chests? Beginning at the entrance to the forest, the journey progresses through woodlands, rocky caves, and tree-lined mazes. Color your way past streams and waterfalls and over treetops, until you finally reach your destination: a secluded, magical castle.

Hidden throughout the book are nine symbols. Readers must find all the symbols to unlock the castle door at the end of the quest and discover what lies within. Additional special features include a gate-folded two-page spread and a colorable jacket.

Praise for the book and author:

"The colorists have a queen, and her name is Johanna Basford." —New York Magazine

"Consider trading in your yoga mat for a set of markers and peruse the gorgeous gardens of Basford's imagination." —The Huffington Post

"The best coloring book for anxiety." —Teen Vogue

"This book celebrates the glory of all things green and nature-y in the best way possible: coloring book form! Even if you don't want to add color, the illustrations themselves are frame-worthy loveliness." —Brit+ Co

Other popular titles by Johanna Basford include:
• Secret Garden
• Johanna Basford's Secret Garden Journal
• Secret Garden: 20 Postcards
• Enchanted Forest: 12 Color-in Notecards
• Enchanted Forest: 20 Postcards

Fans of Leila Duly, Millie Marotta, and Daisy Fletcher will devour Johanna Basford's intricate scenes of flora and fauna.
About the Author
---
Johanna Basford is an illustrator and ink evangelist who creates intricate and hand-drawn illustrations rooted in the flora and fauna that surrounds her home in rural Scotland.