Britannica's Encyclopedia Infographica: 1,000s of Facts & Figures--About Earth, Space, Animals, the Body, Technology & More--Revealed in Pictures (Hardcover)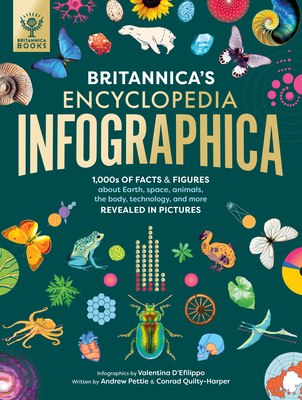 $32.00

Usually Ships in 1-5 Days
Description
---
A groundbreaking new encyclopedia from Britannica, where the pictures do the talking
This authoritative encyclopedia is perfect for visual learners: it reveals astonishing information about space, Earth, animals, humans, and technology through 200 infographics, including maps, charts, timelines, and more
Grasp facts at a glance as you turn every page: discover the size of our Sun in comparison to the largest star in the universe; find out which animal can leap 200 times its body length; learn how many cups of snot your body makes a day; compare the sizes of the biggest beasts that have ever lived; witness what happens in a single second across the world.
With stunning infographics by internationally renowned data designer Valentina D'Efilippo, along with beautiful color photography, as well as interviews with leading expert consultants for every chapter, this ravishing book from Britannica offers an exhilarating visual way to understand the world around us.
About the Author
---
Valentina D'Efilippo is an award-winning data visualizer and illustrator. She is the co-creator of The Infographic History of the World which has been sold in 9 languages, she presented a TedX talk on Data Design in 2021, and she leads workshops for students and professionals, including masterclasses with The Guardian about visual storytelling with data. This is her first children's book.Andrew Pettie is a UK-based writer, editor, and journalist who has contributed to The Times, Sunday Times and The Daily Telegraph, where he was Head of Culture. Andrew is the author of Listified! (published by Britannica Books), and the editor of the Britannica Magazine.Conrad Quilty-Harper is a journalist at Bloomberg News in London, UK. He previously worked at New Scientist, British GQ, the Daily Mirror, and The Daily Telegraph, often using data and infographics to tell stories. He plays the trombone, likes airplanes, and his favorite type of graph is the sankey diagram.Britannica Group is a global education leader with over 250 years of dedication to seeking out facts and providing insight into the mysteries of the universe. Britannica's mission to inspire curiosity and the joy of learning helps build the world's future thinkers and innovators.