The Accidental Archivist (Paperback)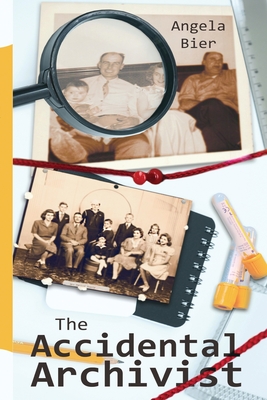 $17.00

Usually Ships in 1-5 Days
Description
---
FAMILY HISTORY, MODERN GENETICS, AND WELL-KEPT SECRETS COLLIDE AS ANGIE BIER IS DRAWN INTO A SEARCH FOR A STRANGER'S BIRTH FATHER HIDDEN SOMEWHERE IN HER OWN FAMILY TREE. THE SEARCH LEADS TO DUSTY ARCHIVES, CLUES HIDDEN IN PLAIN SIGHT, AND THE CUTTING EDGE OF COMMERCIAL GENETIC TESTING.
Fifty-something Kathleen used 23andme to identify her biological mother, who is rumored to have a child with a priest. Kathleen believes that her father is Angie's great-uncle Ed, a beloved monsignor. Angie's genealogy and medical backgrounds balk at this conclusion. Couldn't it be one of the other seven priests in the family?
Despite initial reluctance, she is drawn full force into the mystery. Angie visits archives around Wisconsin, creating dossiers on the potential priest fathers. Kathleen discovers articles online with tantalizing clues hidden in plain sight. Angie's geneticist sister applies modern techniques to unravel this complex case of genetic genealogy. After a year, Angie determines that a distant relative is Kathleen's and Henry's father. They work together to sketch out their biological parents' story, one wound up in expectations, disappointments, and secrets hidden in plain sight. As they arrive at answers, new questions continue to surface and each struggles to craft a narrative that answers them fully. Ultimately, they create a new definition of family and celebrate it with all of its amazing twists and turns.
The Accidental Archivist
is a delicious combination of memoir, sleuthing, and family secrets. Written with deep compassion, but also an overwhelming sense of curiosity and a need to know the truth, Bier digs through relationships and family history, putting beloved dots together in a different pattern. Facts grow from multi-generational lore, creating a new picture in the family album.--
Kathie Giorgio, author of All Told and If You Tame Me
Angela Bier's
The Accidental Archivist
is a personal, true mystery story. Genealogist by hobby, Bier pursues the unknown background of a relative's parentage, particularly the father. While tracing family trees could be monotonous, Bier brings both variety and humor to her account, using emails, letters, photos, and dialogue. For anyone who enjoys stories of family dynamics and mysteries, Bier's tale can be a compelling one.-
Mary Ann Noe, author of To Know Her and A Handful of Pearls Accidental
Accidental Archivist
is a uniquely fascinating mashup of mystery and memoir. It travels down the path of a clouded family history and attempts to lift the fog on a scandalous story of a distant ancestor. Along the way, exhaustive research ranges from interpreting personal letters and photographs, to interesting revelations found using DNA testing. Bier's quest for the truth takes us into a detective story that wades through hunches, conjecture and blind alleys in search of answers to a long-held family secret. Bier's debut is a wild swing through the branches of a family tree -
Jim Landwehr, author of Dirty Shirt, The Portland House, Cretin Boy and At the Lake
.