Every Wrong Direction: An Emigré's Memoir (Hardcover)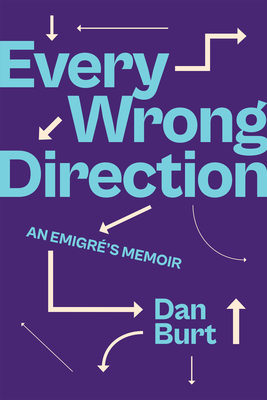 $37.95

Usually Ships in 1-5 Days
Description
---
Every Wrong Direction recreates and dissects the bitter education of Dan Burt, an American émigré who never found a home in America. It begins in the row homes of Jewish immigrants and working-class Italians on the mean streets of 1950s South Philadelphia. Every Wrong Direction follows the author from the rough, working-class childhood that groomed him to be a butcher or charter boat captain, through America, Britain and Saudi Arabia as student, lawyer, spy, culture warrior, and expatriate, ending with a photo of his college rooms at St John's College, Cambridge. Between this beginning and end, through a Philadelphia commuter college, to Cambridge, then Yale Law School, across the working to upper classes, three countries, and seven cities over 43 years, it maps his pursuit of, realization, disillusionment with and abandonment of America and the American Dream.
Praise for Dan Burt's previous memoir, You Think It Strange:

"Burt's early life was indeed a triumph of wit and will. He managed to escape a world filled with violence and a culture that valued street smarts over book smarts, all the while knowing that just about everyone around him thought little of his prospects. That he made it out at all is extraordinary. That he became a successful lawyer and writer is virtually unimaginable." —Commonweal

"Dan Burt is a fine poet, and this memoir has all the sensitivity and vigilance you might expect from a writer with such a background. But his prose also has a robustness and documentary power that continually startles and engages. As it combines these things, You Think It Strange catches the strangeness of the world and makes it familiar."
—Sir Andrew Motion, Poet Laureate of the United Kingdom, 1999-2009
 
About the Author
---
Dan Burt (danburtpoetry.com) is a prolific author whose work has appeared in The Financial Times, The Sunday Times, and The New Statesman, among numerous other publications, newspapers, periodicals, and anthologies. He is also the author of four books of poetry and prose and a brief childhood memoir, You Think It Strange.
Praise For…
---
"I was deeply moved by Every Wrong Direction; it was filled with courage, honesty and grace - and quite a bit of sheer page turning thrill. [Dan Burt tells] it all beautifully and poignantly, and what lingers is an impression of exemplary intelligence and daring."
— Alain de Botton, author of The Course of Love and The School of Life: An Emotional Education