Emmanuel Kelly - ¡Sueña a Lo Grande! (Emmanuel Kelly - Dream Big!) (Lo Que de Verdad Importa) (Hardcover)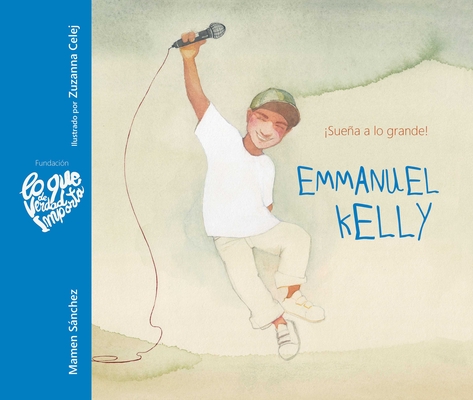 $16.95

Usually Ships in 1-5 Days
Description
---
Silver Medal at the 2019 International Latino Book Awards. Inspired by a true story, Emmanuel, born without arms or legs, finds his way to happiness through his love for music.
Emmanuel Kelly was born and abandoned into war-torn Iraq. Two nuns found him, a tiny baby without feet or hands, in a shoe box in park where his parents left him. They decided to name him Emmanuel and raise him at an orphanage, where the little one met another child like him and they became brothers for life. The nuns took very good care of them, but one day a magic angel appeared and decided to adopt the two brothers and bring them to Australia with her for a life changing surgery --that was when Moira knew she had found her sons.
Emmanuel's sheer passion for singing, for life, and for 'dreaming big' in the face of huge obstacles, led him to achieving his dream of becoming a singer and a true inspiration for others.
A real-life story about a boy born under the most difficult conditions who achieved his passion for signing and is true to his motto to dream big, work hard and achieve great things
Medalla de plata en los International Latino Book Awards en 2019. La historia, inspirada en hechos reales, de c mo Emmanuel, un chico que naci sin brazos ni piernas, luch por su felicidad a trav's del amor por la m sica.
Emmanuel Kelly naci en un Irak devastado por la guerra. Dos monjas lo encontraron en una caja de zapatos en el parque donde lo abandonaron sus padres cuando era tan solo un peque o beb sin pies ni manos, Las monjas decidieron ponerle el nombre de Emmanuel y criarlo en un orfanato, donde el peque o conoci a otro ni o como l y al instante se convirtieron en hermanos de por vida. Las monjas los cuidaban muy bien, pero un d a apareci un ngel m gico que decidi adoptar a los dos hermanos y llevarlos a Australia con ella para una cirug a que les iba a cambiar la vida. Fue entonces cuando Moira supo que hab a encontrado a sus hijos.
Su pasi n por cantar, por la vida, por so ar a lo grande frente a enormes obst culos, le est n llevando a realizar su sue o de convertirse en cantante y destacar en el mundo de la m sica.
Una historia de la vida real sobre un ni o nacido en las condiciones m's dif ciles que logr su pasi n por el fichaje y es fiel a su lema de so ar en grande, trabajar duro y lograr grandes metas.