AI Bullseye Tactics For Non-Technical Business Leaders: Artificial Intelligence to Hit Business Value Targets, Tackle Unsolvable Problems, and Generat (Paperback)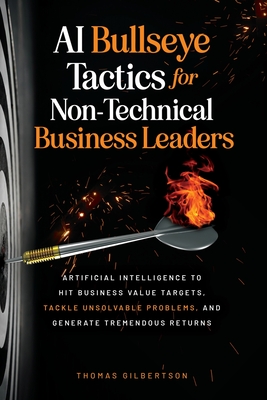 $27.99

Usually Ships in 1-5 Days
Description
---
Get real-world business results with AI-minus all the hype.
Well-credentialed AI experts bombard you with flashy presentations and tech speak about AI, automation, analytics, algorithms, and machine learning to keep you under their spell. They use hype and fear to control you and slow your AI success in order to keep lining their pockets with money.
Break free of the hype and fear and start enjoying the tremendous benefits of artificial intelligence today with no technical expertise required
In AI Bullseye Tactics for Non-Technical Business Leaders, AI-for-business expert Thomas Gilbertson shares real-life, insider stories to illustrate unique concepts culled from his thousands of hours of experience delivering AI projects for Fortune 10 companies. This guide uncovers Gilbertson's 12 core business principles for deploying AI effectively and guarantees to forever change how you think about getting business value from AI. Let others debate what AI is, while Gilbertson shows you what AI can do for you, your business, and your career.
You'll learn how to
Identify AI opportunities, quickly evaluating their potential to drive profits or reduce costs successfully and across all industries.
Create a top-notch, value-delivering AI team by learning the team positions and required skills-success here is not what you have been told.
Simplify how you view all AI techniques by grouping them into just 5 proprietary, business-useful categories.
Ask the one "secret sauce" question that is guaranteed to uncover a great opportunity to apply AI in your organization today.
Avoid 60 specific ways that you can fail to deliver value with AI.
Tactical, user-friendly, and irreverent, this book sidesteps the hype and shares the secrets to gaining a competitive advantage over your peers. Get the AI-for-business book for everyone from CEOs to department managers, from entrepreneurs to MBAs. AI Bullseye Tactics for Non-Technical Business Leaders will give you the path and confidence to effectively apply AI in your business today.